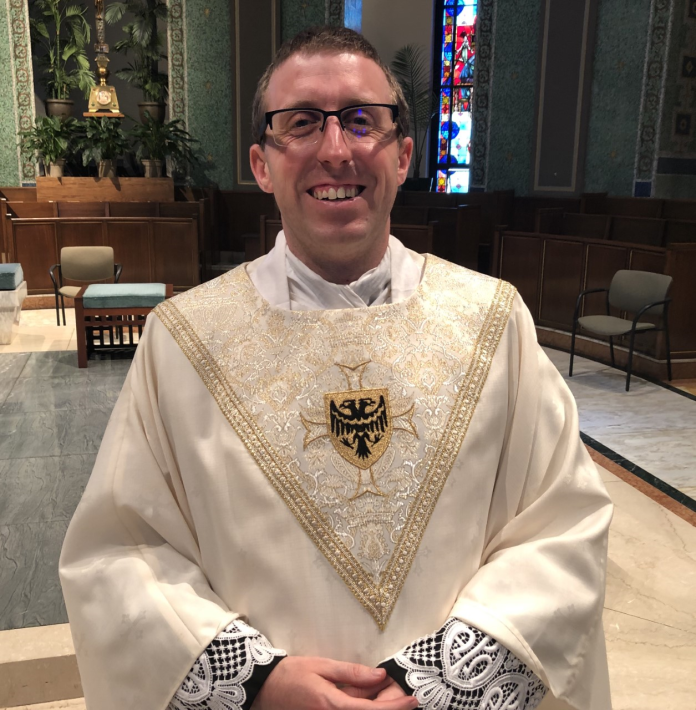 The week of November 6-12 is National Vocation Awareness Week. This is a good time to pray that young people in the diocese will be truly open to God's call in their lives. Traditionally the Church understands "vocation" as God's call to a particular way of life: Priesthood, the Permanent Diaconate, Consecrated Religious Life, Marriage, Single life. In order for anybody to hear God's call some essential elements need to be in place and perhaps the example and the wisdom of a young Blessed can give some guidance. In 2006 Carlo Acutis left this life at the age of 15 after a short battle with Leukemia. He spent his short life in a very inspiring and generous way: he loved to pray in the Church, even from a young age, He mortified his desire to play video games (he allowed himself only one hour per week), and he spent much of his time promoting Eucharistic devotion through his family trips to see sites of Eucharistic miracles and putting together a website and display telling the stories of these miraculous events. He loved to play soccer with his friends and he was a young man of true purity. He would stand up to defend others when they would be bullied or left out and he would remind people of their dignity simply telling them "you are a temple of the Holy Spirit".
We are blessed in the Diocese of Altoona-Johnstown to have the opportunity to view his Eucharistic Miracle display in several parishes. His mother was not practicing the faith but through his example and his questions to her, she came back to the Sacraments! At one point she even enrolled in a theology course in order to answer his questions better.
At one point he spent his entire savings to buy a homeless person a sleeping bag. All this is pretty amazing considering he did all this before the age of 15. At his funeral many homeless people came because he was always very generous with them.
Carlo was buried in Assisi, Italy because of his great love for St. Francis. He was beatified in 2020.
At one point in his life, he gave a toolkit for holiness which are basic suggestions for growing in holiness. This toolkit is: daily Mass, Communion, Rosary, Scripture, Eucharistic Adoration, weekly Confession, and the willingness to give up something for others.  
If every single person took this simple Catholic advice to heart, we would be able to start truly building up a culture that promotes and encourages vocations! Many young people are not even aware of the reality of a vocation. Mothers and Fathers: set the example for your children. Grandmothers and Grandfathers: do not underestimate the power of your example, either! Pray for your children and grandchildren. In Bl. Carlo's life we can see the joy that comes from saying yes to God.  Blessed Carlo Acutis is a powerful and simple inspiration to all: boys, girls, men, women, old and young.
During this National Vocations Awareness Week, try to start living Blessed Carlo Acutis' toolkit and encourage others to do so as well. Please keep our seminarians in your prayers as they have made a generous commitment to take time to truly discern and be formed as good men pursuing the priesthood. Please pray for the priests and deacons in our diocese who serve heroically in often hidden ways. Please pray for the religious who serve so faithfully in many ways. Please pray for family life that marriages be strengthened and filled with God's love. Please pray for more men to answer the call to this particular vocation to the priesthood, but we each need to respond to the call to holiness that is incumbent upon each of the Baptized.
Blessed Carlo Acutis, pray for us!
For information about Vocations, please visit https://AJVocations.org