By Tony DeGol
Proclaim!
Much sweeter than the chocolate cake truffles and Moscato d'Asti at the recent Catholic Charities Wine and Food Pairing was a true story highlighting how the delightful evening helps our neighbors in need.
At the conclusion of gathering at the Blairmont Club in Hollidaysburg, Catholic Charities Executive Director Jean Johnstone shared the story of a 91 year old widow who reached out to the agency that very afternoon.
She heard a storm was coming, Johnstone relayed. The woman thought she was out of fuel and feared she might freeze.
She was so scared, she called the police, who generously checked out her situation. They determined she had enough fuel to last her two or three days, and they suggested she call Catholic Charities.
Before too long, an order for a hundred gallons was placed and would be delivered the next day.
"And that's what we do every single day," reminded Johnstone.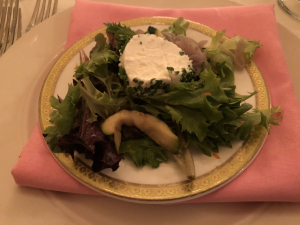 All proceeds from the Wine and Food Pairing directly help Catholic Charities respond to the countless emergency financial assistance requests the agency receives – especially during these winter months.
For those who want to support Catholic Charities in its incredible mission, the wine events are a tasty opportunity.
Della Vino Imports, in partnership with the culinary team at the Blairmont, presented a mouth-watering five-course evening that included a deviled egg with blue crab paired with a Deltetto Langhe Bianco Suasi, duck confit and risotto matched with a Crissante Alessandria Langhe Nebbiolo, and beef tenderloin and fried herbed polenta coupled with a BrockenChack Zip Line Shiraz.
Two other pairings are planned in the coming weeks – February 27 at the Holiday Inn in Johnstown and March 26 at the Ramada in State College. Visit catholiccharitiesaj.org for more information or reservations.
Attendees agreed that the food were wine were superb, but the real treat is supporting a community treasure.
"Catholic Charities helps everyone," said Joan Bartolotta. "The mission is wonderful."
For Jana Sidler, the evening was about fellowship and bringing people together to educate them about the reach of Catholic Charities.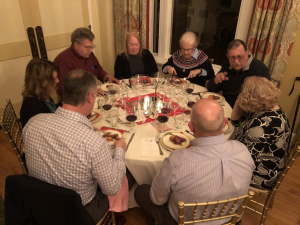 "It is not necessary for you to be Catholic in order to be served by Catholic Charities," she noted. "Many people benefit from their goodness."
And the commitment to serving others will continue, Johnstone assured.
"It's about taking time to look at all the 91 year olds who live at home and do okay, but she needed help and she needed it right then," she recounted. "Tonight's proceeds will go to help more 91 year old ladies who don't know what to do but to call the police department. They knew what to do, so spread the word."
[Photos (from top): Chris McClellan of Della Vina Imports, chats with guests; herbed goat cheese atop a spring mix salad with grilled zucchini and red onion; duck confit and risotto paired with a Crissante Alessandria Langhe Nebbiolo; guests enjoying great food, wine, and conversation.]