By Tony DeGol
Proclaim!
Youth Ministry programs in the Diocese of Altoona-Johnstown usually include lots of opportunities for fun and games, but the overall mission is by no means child's play.
"I think the important mission for all of us is to help young people grow in their faith, have that fire for Jesus Christ in their heart, and continue to want to grow that and live it for the rest of their lives," pointed out Francine Swope, diocesan Coordinator of Youth Ministry and Religious Education. "Our part of that is to accompany them on their faith journey."
Two of the diocese's biggest youth events are Junior High Youth Day for sixth, seventh, and eighth graders in the spring, and Senior High Youth Conference, or SHYCON, for high school students in the fall.
"It's very important for our young people to see outside of that tiny little parish they belong to," stressed Swope. "We have many parishes across the diocese with young people just like themselves. So when we bring them together, it gives them the opportunity to be with other kids and see that the Church is bigger than their little parish community."
The Youth Ministry Office also sponsors popular summer camp opportunities – Camp Timothy for high schoolers, and Camp Zacchaeus for younger students.
"These are young people that choose to come to a faith-based camp, and, yes, we have Mass every day, and, yes, we have devotions and all kinds of faith-based activities from the time they get their until the time they go home, and these kids love it," she assured.
Teens from our diocese also have the unique opportunity to broaden their encounters with Christ through trips to the National Catholic Youth Conference in Indianapolis.
"It's 25,000 young people coming together, and again, imagine our young people coming from their little parish, then going to a diocesan gathering, then witnessing a national gathering," Swope added. "We need to offer them these opportunities that they might not have on their own." 
Very gratifying for Swope are the many young adults throughout the diocese alive in their Catholic faith who credit the diocese's youth ministry programs for their firm foundation.
"Being at camps and youth events really allowed for me grow in faith in ways that I wouldn't have experienced elsewhere," said Morgan Casto a parishioner at Saint Clement Parish in Johnstown and teacher at Bishop McCort Catholic High School. "They exposed me to new forms of prayer and helped me learn how I can pray to God in different ways. I also got to meet fellow young people that had a similar desire to grow closer to God. These programs created a zeal for the Lord within me that really helped me dive deeper in the faith on my own and throughout college."
College student Sarah Farabaugh, a parishioner at Saint Nicholas Parish in Nicktown, still cherishes her diocesan summer camp experiences.
"From singing songs at the top of our lungs, to Adoration late at night, to our candlelight prayer by the pool, the memories I made at camp have not only made me stronger in my faith, but excited about being a Catholic in our diocese," she remarked.
The camps and youth events also impacted Grace Callahan, a college student and member of Saint Rose of Lima Parish in Altoona.
"Not only did I get to see others grow within their faith, but through the experiences, I got to deepen my relationship with God," she mentioned. "I understand more about my faith each day, and it all started because of the events the diocese had planned."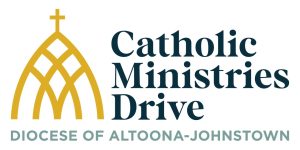 Youth Ministry is one of 14 diocesan ministries supported by the annual Catholic Ministries Drive. Others include seminarian vocations, Christian Initiation, and sacramental preparation.
Gifts to the CMD allows the diocese, through those ministries, to accompany people in their desire for a deeper relationship with Jesus Christ.
The theme for the 2022 campaign is "Forward in Faith."
With the help of the faithful throughout the diocese, Swope is committed to continue accompanying our precious young people exactly in that direction.
 "This ministry is the best ministry because we're growing young Catholics, some possible young saints for the future," Swope insisted. "We could not do that without the Catholic Ministries Drive. I think everyone wants to see our Church grow, and this is how we will continue to grow our Church."
[Photo: Bishop Mark poses with a group of young people at a past Senior High Youth Conference (SHYCON).]