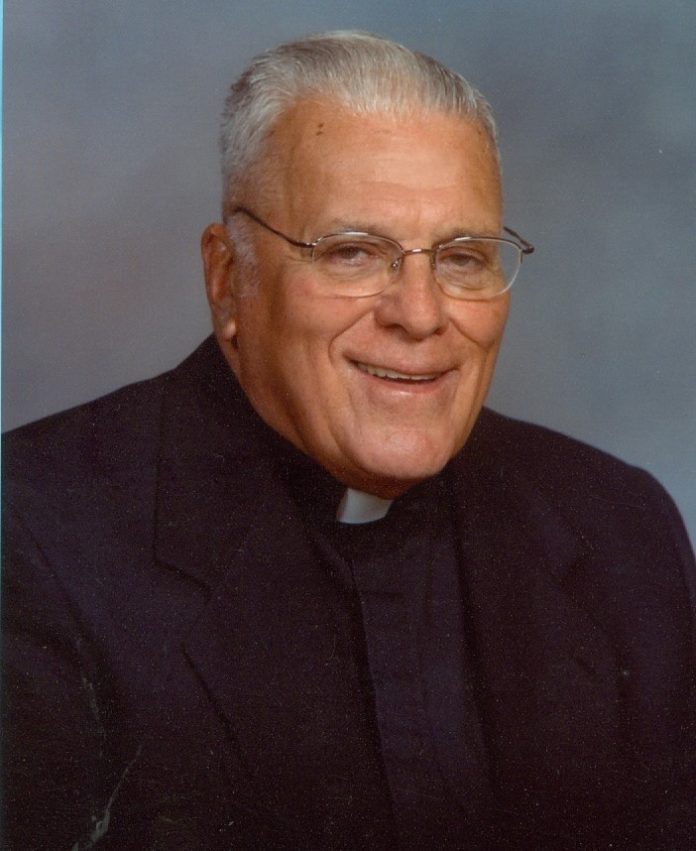 By Tony DeGol
Proclaim!
A former Catholic school student fondly remembers when the priest who would have a profound impact on his life arrived as pastor of his parish and school.
That priest was Father Paul Robine, and that former student grew up to be the Very Reverend John Byrnes, JCL, JV.
"Father Robine arrived at Saint Aloysius Parish in Cresson when I was in fourth grade, and for the next 13 years, he would inspire in our parish a deep love and reverence for the Holy Eucharist," recalled Father Byrnes, Rector of the Basilica of Saint Michael the Archangel in Loretto and Judicial Vicar for the Diocese of Altoona-Johnstown. "He did this in every Mass and through the constant encouragement of prayer before the Blessed Sacrament."
Father Byrnes said Father Robine's homilies were profound, simple, and sincere, and would remind parishioners that Jesus is present in the tabernacle, and no one should be afraid to go to Him.
"When the Church first permitted Communion in the hand, Father Robine came over to the school with a Tupperware container of unconsecrated hosts and taught each of us children individually how to properly receive the Lord in this new way," Father Byrnes remembered.
He also noted Father Robine's affection for the Blessed Mother.
"With the spiritual foundation of the Eucharist and Marian devotion, he formed us into a happy, vibrant and faithful parish family," Father Byrnes added. "Is it any wonder that during these years, I was inspired and discerned a priestly vocation?"
In the years that followed, another young man also felt called the priesthood, thanks, in part, to the example of Father Robine while he was pastor at Saint John Vianney Parish in Mundys Corner.
That young parishioner is now Father Matthew Reese, Pastor of Our Lady of the Alleghenies Parish in Lilly.
"Father Robine was my pastor since I was 12 years old," Father Reese stated. "I will always remember his gentleness and his joy in celebrating the Mass.  I had never seen him without a visible smile on his face when he offered the Mass.  He was a good mentor for me, and I'm grateful to have had him as my pastor and my friend."
Added Father Byrnes: "Father Robine reflected joy, love for Jesus, and love for the Church. If each of us priests reflected the joy and attitude of Father Robine, there would be more than enough vocations." 
Father Robine passed on April 4, 2023, at UPMC Altoona following a brief illness.
Born on February 15, 1934, in Altoona, the son of the late Martin and Mary (Weidmann) Robine, he attended Saint Leo Elementary School in Altoona and Altoona Catholic High School.
His priestly education and formation came at Saint Vincent Seminary in Latrobe and Saint Charles Borromeo Seminary in Philadelphia.
Father Robine was ordained a priest in 1959 at Immaculate Conception Chapel in Loretto by the late Bishop Howard J. Carroll.
His early parish assignments included Saint Benedict Parish in Johnstown and Saint Joseph Parish in Portage.
He was also an instructor at Bishop McCort Catholic High School in Johnstown, Bishop Carroll Catholic High School in Ebensburg, and Bishop Guilfoyle Catholic High School in Altoona. He was Chaplain at Mercy Hospital in Altoona, and he taught at the Altoona School of Nursing.
In 1971, Father Robine was appointed Pastor of Saint John the Evangelist Parish in Everett, where he served until 1976 when he was named Pastor of Saint Aloysius Parish in Cresson, an assignment he had until 1988.
He was appointed Pastor of Saint John Vianney Parish in Mundys Corner in 1988 and served that faith community until his retirement and appointment to Senior Priest status in 2009.
During his retirement years, Father Robine resided in Cresson and, most recently, at Garvey Manor Nursing Home in Hollidaysburg.
It is not just priests whose hearts swell with respect for Father Robine.
Thanks to his various assignments over the years, Father's ministry positively impacted many lives throughout the Diocese of Altoona-Johnstown, which was reflected recently when Father Robine was featured as part of the Proclaim! TV Prayers for Priests segment. The corresponding Diocese of Altoona-Johnstown Facebook post generated many likes, shares, and glowing remarks.
"Father Robine is such a kind and beautiful person with a heart of gold," according to a Cresson man who posted a comment. "I have never met anyone so appreciated and loved by so many people."
One woman called Father Robine a 'priestly' priest.
"Many priests should follow in his footsteps," she added. "What a very gentle and sweet man."
Another woman commented that Father Robine was a wonderful friend and priest.
"He showed me how to be a loving wife, mother, and friend while learning to grow in my Catholic faith and share it," she said.
"We are so thankful for a priest like Father Robine, the kindest, sweetest, and most peaceful man I know," chimed in another woman. "He was the best. Listening to his calm voice was so comforting."
Father radiated peace, mentioned someone else.
"Truly a man of God," she added. "Fond memories from his time at Saint Al's and his precious dog, Molly."
Viewing and funeral arrangements for Father Robine are as follows:
The reception of the body will occur on Wednesday, April 12, at 2:00 p.m. at Saint Aloysius Parish in Cresson with the Very Reverend Thomas Stabile, TOR, VF, presiding and with viewing continuing until the 7:00 p.m. vigil, with Reverend Matthew Reese presiding.
A funeral Mass will be celebrated on Thursday, April 13, at 11:00 a.m. at Saint Aloysius with Bishop Mark Bartchak as celebrant and the Very Reverend Angelo Patti, VF, Reverend Matthew Reese, Reverend Leonard Voytek and other priests of the diocese as concelebrants.