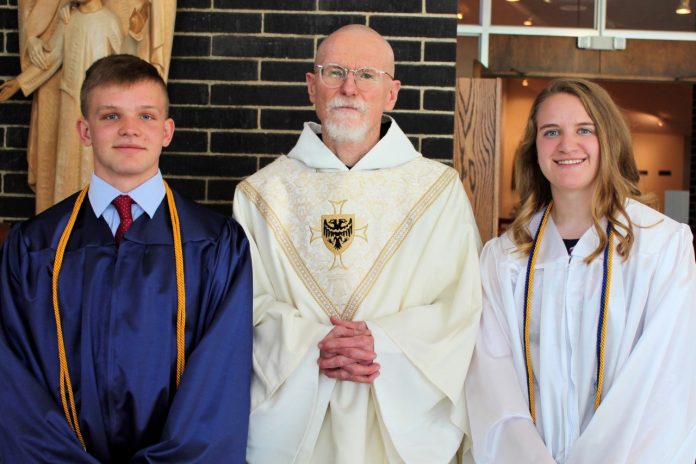 It is graduation season for the four Catholic high schools in the Diocese of Altoona-Johnstown.
Baccalaureate Masses and Commencement Exercises were held for Bishop Carroll Catholic High School seniors on May 18 and 19; for Bishop Guilfoyle Catholic High School graduates on May 20 and 21; and for seniors at Saint Joseph's Catholic Academy on May 22. Mass and Commencement are scheduled for seniors at Bishop McCort Catholic High School on May 26 and 27. Bishop Mark is the celebrant/presider at all Masses and Commencement Exercises.
Congratulations to the Class of 2021!
WATCH Proclaim! TV salute to the Class of 2021
BISHOP CARROLL CATHOLIC HIGH SCHOOL 
38 Graduates
Valedictorian – Nathan Farabaugh
Salutatorian – Molly Krumenacker

31 pursuing higher education; Seven seeking employment; 29 out of 38 seniors took at least one dual enrollment class
BISHOP GUILFOYLE CATHOLIC HIGH SCHOOL 
68 Graduates
Valedictorian – Branden Wasser
Salutatorian – Zachary McCloskey
64 pursuing higher education; 100% who applied to college were accepted; attending 27 different institutions of higher education; over $6 million awarded in college scholarships; 72% earned college in high school credits
SAINT JOSEPH'S CATHOLIC ACADEMY 
20 Graduates
18 going on to higher education; two undecided
Total Scholarship Dollars offered to the senior class: $2,979,133.60
Total Scholarship Dollars accepted by the senior class: $1,277,133.60
BISHOP McCORT CATHOLIC HIGH SCHOOL 
69 Graduates
Valedictorian – Announced at Commencement
Salutatorian – Announced at Commencement

100% Graduation Rate
91% Post-Secondary
4% Military
5% Workforce
Class of 2021 received $1.6 million in scholarships for the upcoming 2021-22 academic year and was offered over $6.5 million in scholarships overall.  
[Top Photo: Bishop Carroll Catholic High School Valedictorian Nathan Farabaugh and Salutatorian Molly Krumenacker with school chaplain Father Jeremiah Lange, OSB.]