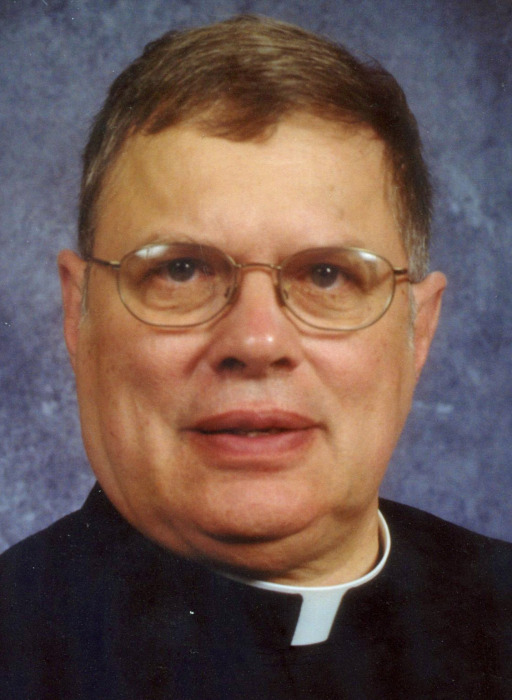 The Diocese of Altoona-Johnstown is mourning the passing of a Senior Priest.
Reverend Andrew C. Stanko passed on November 9, 2020, at Garvey Manor Nursing Home in Hollidaysburg. He was 75 years old. 
Father Stanko was born on May 30, 1945, in Johnstown, the son of the late Andrew C., Sr., and Anna (Mley) Stanko.  He is survived by many cousins and brother priests.
Father Stanko graduated from Bishop McCort High School in 1963. He received his BA in Philosophy from Saint Francis College in 1967, Masters of Divinity from Saint Francis Seminary in 1971, and Master of Arts in Counseling from Villanova University in 1971.
He was ordained a priest on May 15, 1971, at the Cathedral of the Blessed Sacrament in Altoona and celebrated his first solemn Mass on May 16, 1971, at Saint Therese of the Child Jesus Parish in Johnstown.
Father Stanko was certified by the U.S. Catholic Conference as a hospital chaplain in 1975.  He was an associate pastor at Saint Joseph Parish in Portage from 1971 to 1973; Instructor of Religion at Bishop Carroll High School from 1971 to 1973; hospital chaplain at Conemaugh Memorial Hospital in Johnstown, in residence at Visitation of the Blessed Virgin Mary Parish in Johnstown from 1973 to 1986; pastor at Saint Mary Magdalene Parish in Frugality, where he oversaw the construction of the parish hall, and Saint Richard Parish in Blandsburg from 1986 to 1995; pastor at Immaculate Conception Parish in Johnstown, and Saint Michael the Archangel Parish in Johnstown from 1995 to 2000; pastor of Saint Stephen Parish in Johnstown and West End Catholic School in 2000; and pastor of Saint John Vianney Parish in Mundys Corner.
He received the Bi-ritual Faculties from Sacred Congregation of Oriental Churches in 1984 for Byzantine Catholic Archeparchy of Pittsburgh and was an active Fourth Degree member of Knights of Columbus, where he helped to establish a local council in Frugality and received numerous awards including Knight of the Year Council 467. He was a 12 year board of director member for Birth Right and active in ecumenism and a member of West End and Glendale Ministerium, including helping to establish food bank in Frugality.  He was also elected to the priests' Senate and Presbyterial Counsel. 
Father Stanko enjoyed classical music, chess, reading, sports, and classical guitar.
Friends will be received on November 12 from 4:00-8:00 p.m. at Saint Therese of the Child Jesus Parish, 536 Decker Avenue, Johnstown. A funeral Mass will be celebrated on November 13 at 10:30 a.m. at Saint Therese of the Child Jesus, with the Most Rev. Mark L. Bartchak, Bishop of the Diocese of Altoona-Johnstown, presiding.  Committal will take place at Grandview Cemetery.  Arrangements by Francis G. Ozog Funeral Home Inc., Broad Street. Condolences may be sent at fgozogfuneralhome.com.