All Saints Parish in Boswell will host a summer day camp August 1-4 for students entering kindergarten through eighth grade. All students are welcome regardless of parish or religious affiliation.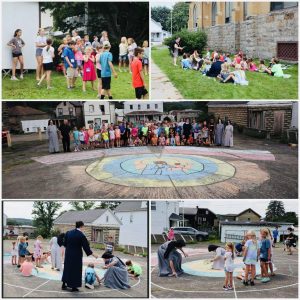 Each camp day will begin with Mass, followed by lessons about faith — taught by the Sister Servants of the Most Sacred Heart of Jesus — and ethnic folk customs focused on Polish, Slovak, and Italian holiday traditions, such as the Christmas wigilia supper, the Easter basket blessing, the Saint Joseph table, and the Italian presepe.
Students will craft butter lambs, bake ethnic delicacies, study basic Polish phrases and songs, and learn folk dance from some members of the famed Tamburitzan folk ensemble of Pittsburgh.
A field trip the Heritage Discovery Center in Johnstown will also be part of the camp.
Each camp day will run from 9:00 a.m. until 4:00 p.m., and snacks will be provided each morning as well as a hot lunch. Games and other activities will take place during the day.
There is no cost to attend. For more information, please contact Emily Marsh at 814-629-5551, or emarsh@dioceseaj.org.
[Photos: Images from last year's camp at All Saints Parish in Boswell.]