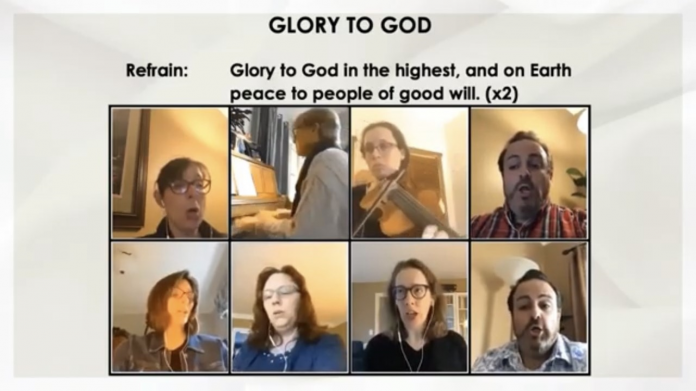 By Tony DeGol
Proclaim!
Saint Augustine said those who sing pray twice.
One could only imagine the praise he would heap on a group of musicians at Good Shepherd Parish in Port Matilda and their technical support team.
Live-streamed Masses from many parishes throughout the diocese have been a blessing during this time when Catholics are yearning to stay connected to the Church. The Good Shepherd faithful are kicking things up a notch with the addition of a virtual choir.
Parishioner and choir member Eric McGinnis is among those leading the way.
He and his wife recently performed for a Centre County charity event, during which they used the app Acapella. It allows musicians to record and share tunes through a mobile device.
Since the app worked well for the charity event, McGinnis and others were inspired to give it a shot with the parish's Zoom liturgies.
"Music is such an integral part of the Mass and a part of Good Shepherd's tradition," McGinnis commented. "To not have that really was a loss for the parish and those of us who are part of the music ministry."
Each choir member records his or her part from home. McGinnis makes any necessary tweaks for the finished product, which features eight people on the screen.
During the live Masses, McGinnis punches up the pre-recorded musical pieces at the appropriate times. Picture a live television news broadcast during which the anchor pauses for the director to punch up a pre-recorded package from a reporter.
So far, the Good Shepherd musicians have contributed a handful of pieces including a Gloria. This past Sunday, they debuted the Easter Alleluia as the opening song.
"Our next step is to have a psalmist at home," mentioned McGinnis, a Ph.D. student in the Penn State University College of Education.
"We're still continuing to explore ways to include the music ministry without making the technical aspects during the Mass too cumbersome or disruptive," added choir member Joanne Rutkowski.
Even these first steps mean the world to the musicians eager to celebrate their talent.
"Music is a meaningful form of prayer for me, and engaging the congregation in that prayer is an important part of my ministry," noted Rutkowski, a Professor Emeritus of Music Education at Penn State University. "While we can't be physically together, the act of playing liturgical music that our choir members can sing with, albeit alone in our homes, connects us in a special way and allows us to still pray together. Being able to share our music with the Good Shepherd congregation during Masses provides a sense of normalcy and joy, not only to us but hopefully to our parish family as well." 
Certainly the worshipful songs are enriching the faith community during trying times.
"We have had nothing but positive feedback from the parishioners," stated Deacon Jack Orlandi, who is in diaconal service at Good Shepherd. "They are all saying that it feels like we really are at Mass."
McGinnis is willing to advise other parishes interested in utilizing the technology to incorporate a choir in their live-streaming Masses.
"I focus on connecting people to one another in meaningful ways, and music is just such a phenomenal connector and something we can join in and do together," McGinnis emphasized.
Editor's Note: Music from the virtual choir at Good Shepherd Parish will be featured on the May 17 edition of Proclaim! at 10:30 a.m. on WATM ABC 23.