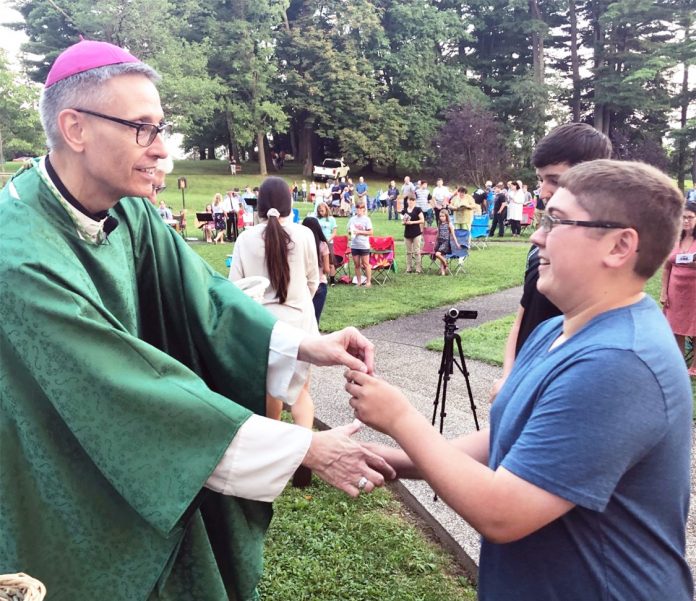 By Tony DeGol
Proclaim!
Logan Gottshall and Elisabeth Keim have an advantage as they head off to college this fall.
Both are attending Christian and Catholic universities respectively, which is a plus as they strive to maintain their commitment to the Catholic faith.
They received an extra boost from Bishop Mark L. Bartchak as he offered practical advice to young adults at the annual outdoor Mass for students entering and returning to college.
The Liturgy, which also welcomed 2019 high school graduates entering the military or workforce, was celebrated on August 4 at the Our Lady of the Alleghenies Shrine in Loretto.
"I'm excited, and I think this really gave a way we can take our faith to college," stated Gottshall, a member of Saint Francis Xavier Parish in Cresson and incoming freshman at Waynesburg University.
"I feel I gained a lot of knowledge on how to keep my faith in college, and it makes me excited that I'll always have my faith even through college and after it," added Keim, a parishioner at Holy Name in Ebensburg. Keim will attend Seton Hill University.
Some of the Bishop's advice was blunt.
"Stay away from sex, drugs, drinking, and smoking," he warned. "In case you didn't understand that, let me rephrase it. "Stay away from sex, drugs, drinking, and smoking."
Along those lines, he urged students to take care of their physical well-being.
"I hate to remind you of this, but your mom was right: a little pizza or ice cream once in a while is okay, but you really do need to eat healthy," he pleaded. "If you don't eat healthy, exercise and get enough sleep, your brain will not work."
The Bishop also reminded students to choose their friends wisely as they are about to meet plenty of new people – many of whom will not share their Catholic values.
"Remember who you are," he stressed. "You are a human person and every human person is made in the image and likeness of God. You have an awesome dignity. None compares. It is a gift from God, and God wants that gift to be your core for your whole life."
The Bishop's words of wisdom impressed Nathan Ringkamp, a member of Saint John the Evangelist Parish in Altoona. He will enter the Catholic University of America in the fall.
"It's exciting that I can continue practicing my faith on a campus that I know supports that in every student," he said. "I realized that my faith is really important to me, and it's easier to continue your faith on a campus that supports that."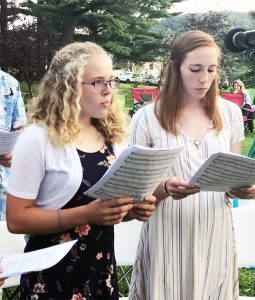 Sarah Farabaugh is off to the University of Pittsburgh at Johnstown. Although it is a non-Catholic school, the Saint Nicholas, Nicktown, parishioner has no worries about staying true to her faith.
"I just plan to let it be in my action – just let them see that I'm a strong believing Catholic, and that's how I plan to be and no one can change that," she stressed.
Maria Schall knows what to expect when she returns to the Indiana University of Pennsylvania in a few weeks. The Saint Benedict, Carrolltown, parishioner will begin her junior year.
"One of the hardest things that I found going to college that I didn't even think about was grace before meals, because I'm by myself or I'm with my friends who aren't Catholic, and so sometimes I don't even think to pray before meals," she admitted. "Since I noticed I wasn't doing that, I've tried to make a conscious effort. I'm still proud of my faith, and I still want to spread that – even if it's just someone seeing me make the sign of the cross before I eat."
A great way for college students to engage in their Catholic faith is through participation in Catholic campus ministry programs. A Catholic Sunday Mass is celebrated on campuses, and there are opportunities for the Sacrament of Reconciliation.
Isaac Freidhof lives at home and commutes to the University of Pittsburgh at Johnstown.
"I'm with my family, and I go to Church with my family, but there's a chapel on campus if I ever want to go to Church when I'm there," mentioned Freidhof, a member of Saint Nicholas Parish in Nicktown. "I just have to hold onto my beliefs no matter what I'm doing."
At the end of the Liturgy, Bishop Mark and Monsignor Michael Becker, diocesan coordinator of Catholic Campus Ministry, invited the young adults to the altar for a special blessing, Rosary beads, and well-wishes.
"A lot of people are praying for you, myself included, as you go off in the future of your life," Bishop Mark said. "Big changes are about to happen for all of you. We're praying for you."
[Top Photo: Bishop Mark greets one of the young adults at the annual outdoor Mass for students entering or returning to college and new graduates entering the military or workforce. The Bishop presented each young adult with Rosary beads.]
[Second Photo: Sarah Farabaugh (left) and Kaylee Schall sing with the Bishop Carroll Catholic High School Choir during the annual outdoor Mass for students entering or returning to college. Farabaugh and Schall, both 2019 BCCHS graduates, will enter college this fall. Farabaugh will attend the University of Pittsburgh at Johnstown; Schall will attend the Indiana University of Pennsylvania.]