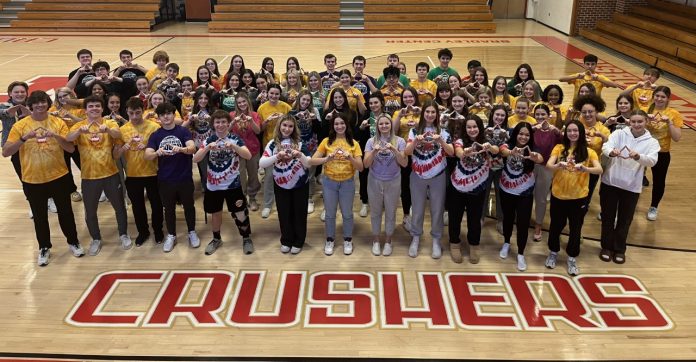 From Bishop McCort Catholic High School
Since 2015, students at Bishop McCort Catholic High School have echoed "For the
Kids!" year after year. Bishop McCort hosts a 12-hour dance-a-thon to help support the Four Diamonds foundation at Penn State Hershey Children's Hospital. Bishop McCort has raised over $178,000 during the past seven Mini-THONs to support families dealing with pediatric cancer. The students in grades 9-12 hope to add to the total this year during this year's Mini-THON on March 24 and 25.
This event was inspired by the Penn State Dance Marathon, THON, originated in 1993
and is still active today which empowers students to learn about event management and philanthropy by joining in the fight against pediatric cancer. Schools across the country just like Bishop McCort hold Mini-THON's throughout the year and raise millions of dollars for the Four Diamonds Foundation.
The Four Diamonds Foundation raises money to help cover medical expenses for
families that have children battling pediatric cancer, as well as support a comprehensive team of researchers that are looking for a cure. Its mission is to conquer childhood cancer by assisting children being treated at Penn State Hershey Children's Hospital and their families through superior care, comprehensive support, and innovative research.
A lot of work is being done to prepare for this major event. Teamwork truly makes the dream work in this case. Student leaders have been working on committees to plan for the dance-at-thon. There are several student committees in which students are contacting sponsors, creating activities, planning meals, and promoting the cause. These committees also planned an Olympics theme – Competing for a Cause – for the big night in which all activities and decorations will be based.
This year's McCort Mini-THON will be led by student Leadership Chairs: Olivia Cover,
Lily Newcomer, Rose Long, Kate Edwards, and Lauren Mucciola. They are aware of the
impact Mini-THON can have on a school community. "Mini-THON is undoubtedly the most meaningful and rewarding endeavor I have taken on as a McCort Crusher. It is so inspiring to watch our school community come together with the support of our community to work for something bigger than ourselves," shared Olivia Cover.
Faculty advisor, Rich Denhard, recognizes the impact of the event and all that leads
up to it. "I am not sure everyone realizes all of the work these kids put into this event, but I know for the students it really emphasizes the importance of their achievements. When they are exhausted and flip those final numbers, I know these young people realize they were a part of a really big accomplishment toward the fight against childhood cancer."
It's safe to say that the Bishop McCort students are going for the gold for this year's
Olympics themed Mini-THON. Their race to fight childhood cancer by supporting the Four Diamonds Foundation will cross the finish line on March 25th. If you or your business or organization would like to support McCort Mini-THON, please visit @bishopmccortminithon on Facebook and Instagram, email us ftkmccortminithon@gmail.com, or call Bishop McCort at 814-536-8991.