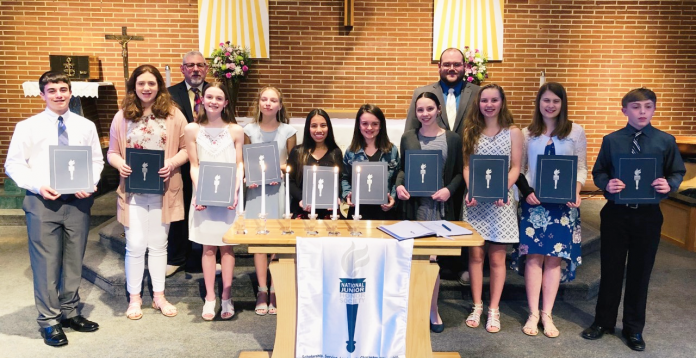 By Tony DeGol
Proclaim!
She has not even started high school yet, but Grace Broadrick already seems to know the secret to success.
"Keep pushing yourself, keep working hard, and never give up, just never give up," she maintained. "You'll be happy in the end with what you do if you just keep pushing yourself and working hard."
Certainly that credo propelled Broadrick to be one of ten inaugural inductees in the National Junior Honor Society at Holy Trinity Catholic School in Altoona.
The middle school just launched the chapter – the first Catholic elementary school in the diocese to do so. An induction ceremony was held on May 13 at Saint Rose of Lima Parish, which houses the HTCS middle school campus.
"It's definitely a great honor having the amazing teachers guiding us, and our parents, and all of us being here together," said Broadrick of the prestigious accolade.
The inductees were chosen based on five pillars: scholarship, leadership, service, character, and citizenship.
"They are very hard categories to maintain, but I always push myself to do the best I can," admitted inductee Andrew Abraham.
Added inductee Edith Manfred, "It's just really inspiring to know that people see what you're doing and people recognize that as something good."
The process of establishing a chapter of the National Junior Honor Society began by looking at all seventh and eighth grade students and determining their cumulative grade point average, explained William Noye, HTCS teacher and faculty representative to the school's NJHS chapter.
"In order to move forward in the process, these students had to have a 94 percent or better GPA," he stated.
The faculty then evaluated the students on the five pillars. Again, students had to achieve a 94 percent rating.
Then, Noye continued, students were informed that they were candidates, and they were asked to fill out a large packet of information. A faculty council then voted on membership.
"We set things up so there is no wiggle room," he stressed. "These students have shown themselves to rise above the rest of our outstanding collection of students at Holy Trinity and they earned the honor of being inducted into this National Junior Honor Society."
HTCS teacher Gary Evangelisto is the advisor to NJHS chapter. He displayed great joy in seeing his students reach this point.
"This is the true student you're seeing here," assured Evangelisto. "They weren't prompted, they didn't know what we were doing as far as what was being asked of them. This is what they do on a regular basis. It's good to see some values that have started at home and continued with the kids. It gives me pride to see and be able to continue what the families have started."
Noye, also, celebrated the inductees' accomplishments.
"I hope for all of our students to achieve and succeed, but these young men and women went so far above and beyond what we could have ever dreamt of asking of them," he boasted. "It fills my heart with such gladness that God put these young men and women in a place where I could be one of the formative influences on their lives."
Both educators agree the standard set by this first class of inductees is one for all students to emulate.
"Make the person around you better and you yourself will become a better person," Evangelisto insisted. "Always work hard, give the best that you've got, and don't ever look down on anyone else."