By Tony DeGol
Proclaim!
Jackson Hudkins loves playing soccer, but the version he is playing these days requires more finger reflexes than fancy footwork.
Hudkins is immersed in car soccer, which is part of the Rocket League in the world of e-sports.
"It is way different than actual soccer, and I'm not as good in this as I am real soccer, but it's a fun game, and you can play whenever you want," the Bishop Carroll Catholic High School Senior mentioned. "You don't have to be outside. You can just pick it up on your gaming console and you can do it wherever you want."
E-sports is a form of sports competition using video games. In other words, organized gaming.
At BCCHS, it is an extracurricular opportunity for Hudkins and his fellow classmates.
More and more schools are offering e-sports, but Carroll is taking things further with the launch of an e-sports arena right in the school.
"This is unique to the area, this is the first in-house gaming setup," noted RJ Clark, Assistant Business Manager at Carroll. "There are other schools that play that are in this league with us, but we're the only school, as of right now, that has the computers in their own room specifically designed for this."
The arena, which was an extra computer lab, features about a half-dozen computers specifically for gaming.
"We want to make this look like a football locker room just for the e-sports kids," Clark insisted. "We want this to be their designated area for playing, for after school practice. When it comes to Tuesdays and Thursdays when we play, we want this to be their room to come in and get ready to go."
Bishop Carroll is collaborating with Saint Francis University in Loretto, which offers a vibrant e-sports program.
"High schools starting to implement this type of technology into their schools provides a whole new level of access for students," pointed out Luke Trotz, SFU E-sports Director. "Not every student has the ability to play these games at home, and so it's fantastic that high schools are providing that opportunity."
Schools are also engaging a whole new demographic of student, he added.
"Up until now, some students who prefer to be gamers rather than traditional athletes have not felt this level of support in terms of having an e-sports community," Trotz stated. "Now they have their own people to gravitate towards and build that community." 
Bishop Carroll administrators see this edition as yet another way to give students cutting edge opportunities for the future.
"It's a career path that these kids could be on as far as video game design, but it's also a way to get college scholarships," stressed BCCHS Head of School Stephen Cotchen, citing Saint Francis University as an example.
Cotchen also noted the fellowship aspect for students, and, in the COVID era, the gamers can compete against anyone virtually and not have to travel.
About two dozen students are involved in e-sports at BCCHS, said Dean of Students Jonathan Nagy. The school is hoping to grow that number and add more equipment as cash becomes available through donations or fundraisers.
"I've talked to several families who are considering sending their children here, and this is one of the things that they're looking at as a big positive, that we have this, that we're allowing them to pursue their interests, and possibly allowing them to cement what their future is going to be based on this program," Nagy added.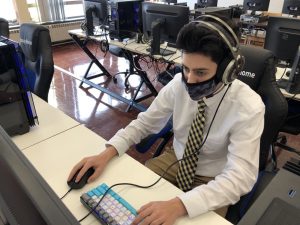 "I would say this is a huge plus at Bishop Carroll, and it would be a good reason to come here," surmised BCCHS Sophomore Ayden Smorto. "There is so much that can come from it. It can be more than just an extracurricular activity."
Added Freshman Blaise Mazey: "It's a great way to spend time with my friends, talk to people, learn stuff, and challenge myself with something I already enjoy doing."
As for Hudkins, there is still no feeling like being on the soccer field, but e-sports is also turning out to be a real kick.
"This is amazing," he assured. "When I heard we were actually having an e-sports team I was really amazed."
[Photos: (Top) BCCHS Senior Jackson Hudkins; (Bottom Inset) BCCHS Sophomore Ayden Smorto]