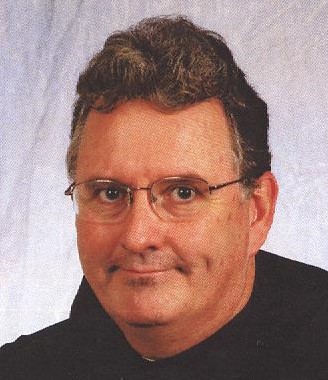 By Tony DeGol
Proclaim!
There are a lot of medical professionals in Father Alfred Patterson's family. 
Not surprisingly, they are a tremendous source of support to him during this coronavirus pandemic and a wealth of good information.
"They tell me exactly what I need to hear," Father Patterson noted.
That is especially important as he carries out his ministry as a hospital chaplain.
Father Patterson, a Benedictine priest who resides at Saint Benedict Parish in Carrolltown and assists at Saint Mary and Saint Michael Parishes in Hollidaysburg, is by no means a newcomer to hospital ministry. He held the assignment a while back in the Diocese of Greensburg, and he has been a chaplain at UPMC Altoona for about two years.
He is one of several clergy in the diocese who minister at local hospitals or other healthcare facilities. 
Obviously, no amount of experience could have prepared anyone for this COVID-19 era and the unique impact on medical centers. For those trusted with providing spiritual care to patients and their loved ones, it is an understatement to say the role of hospital chaplain is different than it was just six months ago.
Father Patterson's routine begins with the celebration of Noon Mass at UPMC Sundays through Thursdays. He then visits patients on two floors each day — roughly two dozen individuals — and sees to any emergencies or special requests.
Before the pandemic, his shift typically ended at about 3:30 p.m.
"Now it's very rare that I leave the hospital before 8:00 p.m.," he said, stressing that he has no complaints. "That's my life as a priest. I'm here to care for people."
Besides his interaction with patients, Father Patterson and other chaplains also try to comfort family members. That aspect of the ministry was especially important in the early days when patients and loved ones were not permitted to interact.
"In the beginning, families were not even allowed in the waiting area," he explained. "It was very strict, but they have loosened up a bit. We can see all that tension sort of dropping."
Beyond the long hours, the journey has been eventful for Father Patterson.
Early on, he came in contact with a patient who no one knew was COVID positive at the time.
As a result, he quarantined and returned with a greater sense of security.
"When I was done, I went back to work, and I wasn't worried about anything," he mentioned.
The hospital is a safe place to be right now, Father Patterson insisted.
Anyone walking into the building gets a temperature check and is asked specific medical questions, he added.
"It's just the new normal," he continued. "I see people walking down the hall sanitizing their hands. The dedication to the patient is primary. If you protect yourself, they protect the patient, and the next patient."
When he is ministering to COVID patients, he takes the necessary extra precautions.
"I remind patients that God is in charge," he said. "Whatever we pray for, the situation has got to be better with prayer. People are very agreeable with that statement."
Father Patterson is especially grateful for the expertise and dedication of the medical team at UPMC and his colleagues in Pastoral Care.
As the pandemic continues, Father Patterson remains committed to his ministry of spiritually caring for patients and their loved ones — even amid the most uncertain times. 
"I'm dramatically changed in the sense that I'm calmer," he remarked. "You focus on the work to be done, and you don't take things lightly. I'm very appreciative of the governor and our Bishop. The more firm they are, the more calm there is, and you see the results in a positive way."