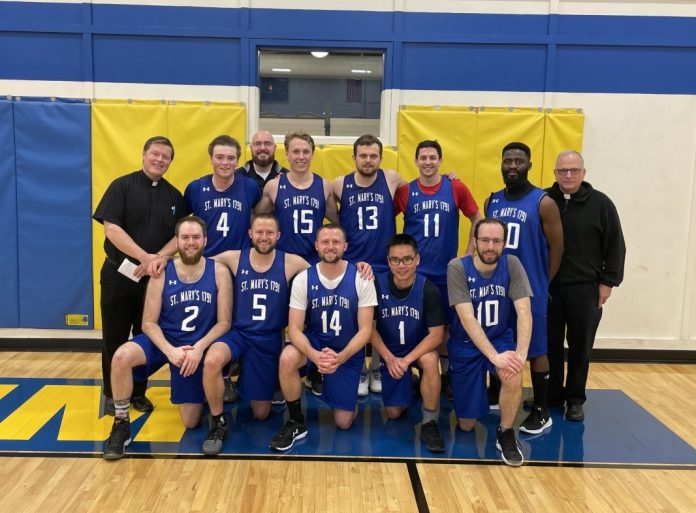 By Tony DeGol
Proclaim!
It is no secret that guys in the seminary have already chosen the winning team.
That does not mean they cannot enjoy fun and fraternity by participating in team sports.
Just ask Jacob Gindhart, a Diocese of Altoona-Johnstown seminarian who had a blast competing in the 41st annual Josephinum Basketball Tournament in Columbus, Ohio, earlier this semester. 
The tournament welcomed players from eight seminaries, including Saint Mary's Seminary and University in Baltimore, where Gindhart continues his priestly formation. Gindhart was a starter on the Saint Mary's team, while his classmate and pal Deacon Brian Norris, also a Diocese of Altoona-Johnstown seminarian who will be ordained to the priesthood this spring, traveled with the team as a student representative and livestreamed the games for the seminary to watch. 
Saint Mary's made it to the championship game but lost to the defending champs, the Pontifical College Josephinum. 
For Gindhart, that was the bad news.
The good news is the amazing blessing this extracurricular opportunity presented him and the other men who participated.
"The tournament provided an incredible opportunity for the guys at Saint Mary's to come together as brothers and grow in discipline, fitness, and fraternity," noted Gindhart, a member of Queen of Peace Parish in Patton. "While we challenged each other, we also had a lot of fun. Seminary fraternity takes on a feeling of 'brothers in arms' at times, but playing basketball together felt a lot like growing up playing sports with your best friends."
To prepare for the tournament, the Saint Mary's players practiced as a team once a week since October. Those gatherings fostered friendship and recreation among the seminarians.  Lots of workouts, both individually and as small groups, also nurtured good health.
"We practiced hard for months, scheduled scrimmages against local intramural teams, and spent a lot of time in the gym preparing for the tournament,' Gindhart added. "It was so rewarding to see that hard work pay off and make it all the way to the championship in our first year."
Another plus was the interaction with other seminarians from around the country. While in Ohio for the tournament, the guys prayed and attended Mass together, while also sharing meals and enjoying some social time. In some cases, various seminarians knew each other from past encounters such as the March for Life or the National Catholic Youth Conference.
Gindhart's basketball experience highlights the opportunities that await any seminarian-athlete. Although academics and priestly formation can be demanding, competitive sports can easily be part of the experience. 
"I hope that being at the tournament and playing so well will create a culture of basketball at Saint Mary's," Gindhart stated. "Basketball is a great sport that can bring out the best in a team and an individual. Playing sports has been a healthy outlet for me and other men in formation. It helps bring about a balance of life in seminary and wellness of mind, body, and spirt. I hope that young men who enjoy sports will consider the priesthood as their vocation. God will use their talents to glorify Him and build up the people around them."