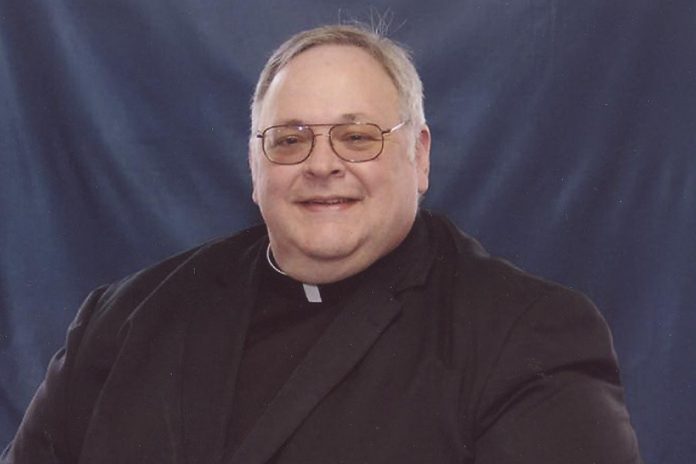 By Tony DeGol
Proclaim!
Even the mayor of Hollidaysburg could not escape the pastoral dedication – and wit – of the late Father Anthony Legarski.
Mayor Joe Dodson remembers reaching out to Father Legarski one year when he was unable to receive an individual throat blessing on the Feast of Saint Blaise.
"He said 'come down,' and he blessed my throat," Mayor Dodson recalled. "Every year after that, he would call me and say 'are you going to be able to have your throat blessed or am I going to have to get my candles ready?' That was a standing joke."
Surely, the mayor is just one of countless individuals with fond memories of Father Legarski and his commitment to God and country. Besides being the long-time pastor of Saint Mary Parish in Hollidaysburg, Father Legarski was also active in the United States Naval Reserves.
He passed unexpectedly on November 5, 2019, following a brief illness. He was 61 years old.
Father Legarski was a community treasure in Hollidaysburg, Mayor Dodson reminded. The late priest was a fixture at Memorial Day parades and other spiritual and patriotic events.
As a way of recognizing his many contributions, the borough is memorializing him with a dedicated area in Patriot Park in the Holliday Hills neighborhood. The tribute will include a plaque, bench, and tree.
"Any time you would call on Father Tony for anything, he made himself available," Mayor Dodson said. "I just thought it would be a nice gesture to memorialize him here at Patriot Park since he was a veteran, he loved the service, and he loved veterans. People can come here, sit down on the bench, gaze at his plaque, say a prayer, and remember him. He loved the mountains, he loved to hunt, and the position we have here looks out at all these gorgeous mountains."
Father Legarski was ordained a priest in 1983 and served as Parochial Vicar at Our Lady of Lourdes Parish in Altoona, Saint Mary Parish in Hollidaysburg, and Saint Mary Parish in Altoona. He was appointed Pastor of Holy Spirit Parish in Beaverdale in 1999 and Pastor of Saint Mary Parish in Hollidaysburg in 2005.
Hollidaysburg Borough Manager James Gehret has equally warm memories of Father Legarski.
"Father seemed to be at every event we would hold," he mentioned. "Anytime you called him, he was available to come and be there – always willing to lend a helping hand.  He seemed to be somebody that anybody could talk to. He was always willing to be there for anybody."
Mayor Dodson is in the process of raising money for the memorial.
Those interested in contributing are invited to mail a check to Hollidaysburg Borough, 401 Blair Street, Hollidaysburg, PA  16648. Please write "Father Legarski Memorial" on the memo line.
The project is expected to be complete by the end of August, Gehret said.