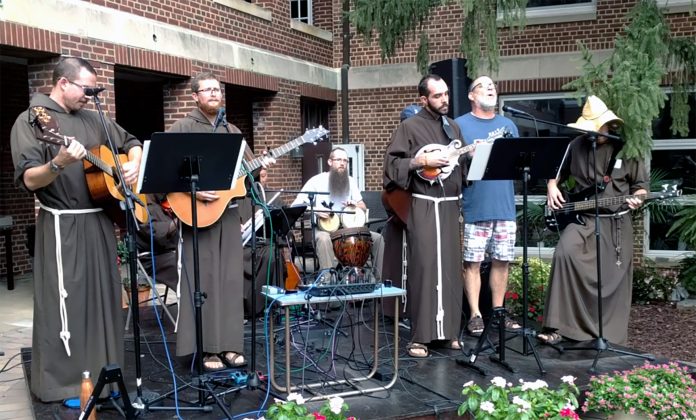 By Tony DeGol
Proclaim!

Altoona-Johnstown is blessed by the presence and service of the Capuchin Franciscans, and that religious community is blessing the faithful of the diocese with a unique family event.
The Padre Pio Family Festival is scheduled for September 8 on the grounds of Saint John the Baptist Parish and Retreat Center in New Baltimore. Several Capuchin friars reside at the parish and serve that faith community and others in the diocese.
According to Father Tom Betz, OFM Cap, Provincial Minister of the Saint Augustine Province, the location of the church and retreat center is a wonderful setting for the event.
"We have come to know that there are truly good Catholic people who love and support this iconic church," he noted. "I also believe that the grounds of Saint John the Baptist above the Turnpike are beautiful. Imagine many hundreds of people coming to pray on those grounds as traffic whizzes by."
Some of the young Capuchin friars formed a music group and perform for religious and evangelical events.
"I thought that it would be great if we could bring a high energy Catholic event to the Altoona-Johnstown Diocese," Father Betz mentioned.
The festival, which includes free admission, begins with the celebration of Mass outdoors at Noon. Following the Liturgy and throughout the afternoon, guests can enjoy live music, games, and a program that is geared toward youth and young adults.
"We especially urge young Catholics to come to New Baltimore on September 8," Father Betz added.
The day will be dedicated to Padre Pio, a Capuchin friar who passed in 1968 and was canonized.
"God marked his body with the wounds of Christ," explained Father Betz. "He had nail marks in his hands and feet and a lance mark on his chest. When he celebrated Mass he would bleed."
The wounds of Christ drew many people to him, continued Father Betz.
"He was sought after as a confessor and he spent hours in the confessional," he added. "He helped to build a large hospital for the sick and the poor.  He had a remarkable gift of intercession. His prayers for others were often granted and many miracles are attributed to his intercession." 
In that spirit, a Padre Pio Healing Service will be held at 5:00 p.m. Relics of Padre Pio – a glove that he wore over his wounded hand and a cloth with some of his dried blood – will be present.
"We invite people to come and pray with Padre Pio's relics," urged Father Betz. "Capuchin friars will be on hand to pray with those seeking God's help."
[Photo: The Capuchin Café, a music ministry comprised of Capuchin friars, performs at an outdoor venue. The musicians are scheduled to perform at the upcoming Padre Pio Family Festival on September 8 at Saint John the Baptist Parish and Retreat Center in New Baltimore.]