All are welcome to join Saint John the Evangelist Parish in Everett in celebrating the Blessed Virgin Mary's Assumption and Coronation.
These eight days, from August 15- 22, are special days to pray to our Blessed Mother and to celebrate her as Queen of Heaven and Earth.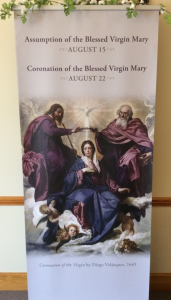 There is beautiful artwork, special music and food to help everyone pray and celebrate.
The schedule for these eight days includes prayer in Thanksgiving for Mary's Fiat on Thursday, August 17 at 7:00 p.m., as well as a concluding Mass on Tuesday, August 22, at 7:00 p.m. for the Queenship of Mary. Each will be preceded by the Rosary and Divine Mercy Chaplet at 6:30 p.m. Refreshments will follow.
More information and a full schedule can be found at Mary's Assumption page (stjohneverettpa.org).
Thank you and may you know the protection of Mary, Queen of Heaven and earth!