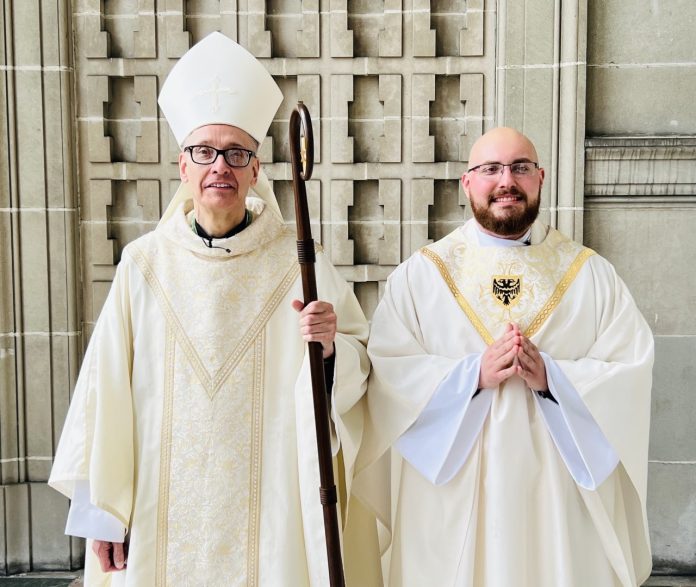 By Tony DeGol
Proclaim!
Just moments before ordaining him to the priesthood, Bishop Mark urged Brian Norris to follow the message of Saint Paul in showing him the way to live his vocation.
All this is from God, who has reconciled us to himself through Christ and given us the ministry of reconciliation, namely, God was reconciling the world to himself in Christ, not counting their trespasses against them and entrusting to us the message of reconciliation.  
"From this day forward, you are an ambassador for Christ, as if God were appealing through you," the Bishop reminded.
Father Norris was ordained during a Mass on May 28 at the Cathedral of the Blessed Sacrament in Altoona, bringing to a conclusion his seminarian discernment and formation journey.
Father Norris, a native of Saint Mary Parish in Hollidaysburg, is the son of Dan and Beth Norris of Duncansville. He is a graduate of Bishop Guilfoyle Catholic High School in Altoona and Saint Vincent College in Latrobe, and he completed his priestly education and formation at Saint Mary's Seminary and University in Baltimore.
"Brian, thank you for saying 'yes' when you heard the voice of the Good Shepherd," Bishop Mark said in his homily. "Thanks to your family – your parents, your friends, and so many others who have shared the journey of the discernment of your vocation that has brought you here today. Do not forget to include those you are ordained to serve in helping you in your continued discernment of the ways in which the Gospel of Christ can and should be lived and shared in your ministry for the good of others."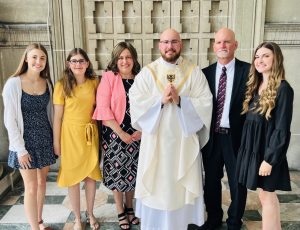 The Bishop also encouraged Norris to pray for other priests so that their ministry may be fruitful and joyful.
Later that day, Father Norris celebrated his first Mass with invited family and friends at Saint Mary Parish in Hollidaysburg. He will celebrate a Mass of Thanksgiving at the parish, open to the public, on June 12 at 10:00 a.m., followed by a reception in the social hall.
Father Norris has been appointed Parochial Vicar at Saint John the Evangelist and Saint Rose of Lima Parishes in Altoona and Sacramental Minister at Bishop Guilfoyle Catholic High School, effective June 29. 
[Photos: (Top) Bishop Mark and the newly ordained Father Brian Norris; (First Inset) Bishop Mark ordains Brian Norris to the priesthood; (Second Inset) Father Norris poses with his parents and sisters following the ordination Mass.]