Bishop Carroll Catholic High School has published a cookbook featuring recipes from current and former staff. There is also a section that includes some of the legendary cafeteria recipes. 
Photos of students and staff enjoying happy times in the cafeteria over the years are also sprinkled throughout the cookbook.  
The book contains more than 60 recipes and includes a Bishop Carroll spatula. 
Each cookbook is $15. To order, contact the school at (814) 472-7500 or email jnagy@bishopcarroll.org.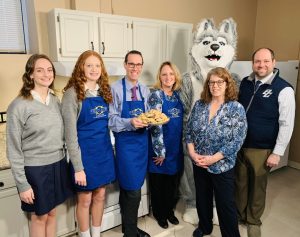 On the January 22 edition of Proclaim! TV, BCCHS Dean of Students/teacher Jonathan Nagy and BCCHS student Teresa Golden explained how the idea for a cookbook came to be, and they described the process of publishing it.
BCCHS teacher Carol Carlisle visited the Proclaim! Kitchen to make pork in mole sauce — the recipe she contributed to the book, and BCCHS Business Manager Lynn Weber and her niece, BCCHS student Maddie Lieb, made cowboy cookies. Click HERE to watch the show.