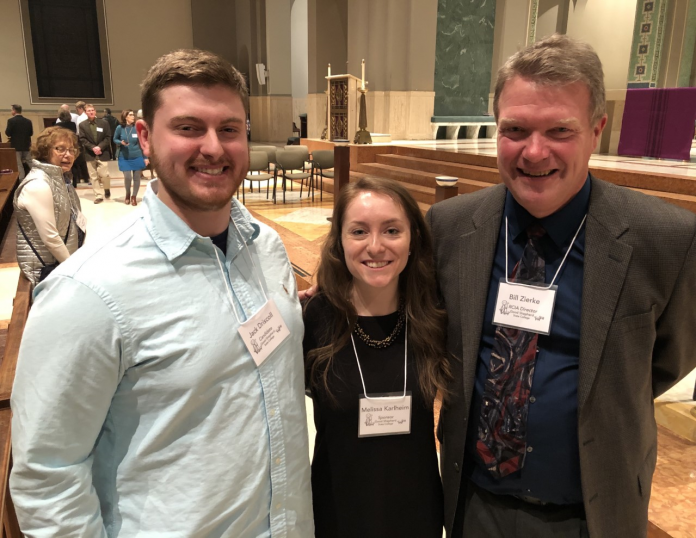 By Tony DeGol
Proclaim!
OMG – it was one of the best text messages ever!
After Jack Driscoll and Melissa Karlheim began dating about a year ago, the two started going to Mass as a couple.
"That really strengthened our relationship," Karlheim recalled.
Then came the text that truly delighted her.
Driscoll messaged his girlfriend that he was preparing to join her as a fully-initiated Catholic.
It was the beginning of the end of his long journey home.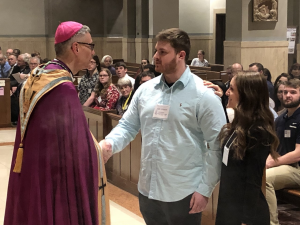 Driscoll, 22, grew up going to Mass at Good Shepherd Parish in Port Matilda, and then things changed.
"Things didn't go completely as my parents had planned," he explained. "Things happened, and then I found my way thanks to Melissa, and thanks to the help of Bill, and here I am."
He was referring to Bill Zierke, the RCIA Director at Good Shepherd Parish.
Under Zierke's guidance, Driscoll is one of four candidates at Good Shepherd who will be initiated during the Easter Vigil.
At a time when society is seeing fewer individuals engage with any organized religion, those four individuals, and many others throughout Altoona-Johnstown, are choosing to be Catholic. They want to be part of our great Church.
This year alone in our diocese, there are 37 catechumens seeking the sacraments of Baptism, Confirmation, and Eucharist, and 43 candidates for Confirmation and Eucharist.
All of those individuals come from more than 25 parishes, college campuses, and correctional institutions.

"As someone who has been through a lot, and faced a lot of challenges, and felt lost, it's just amazing to be able to come into this and have a sense of belonging and feeling so much better in the everyday," said Driscoll, an on-line college student studying Environmental Sciences.
Karlheim, a Gettysburg native studying Nutritional Science at Penn State, is proudly serving as Driscoll's sponsor.
In a way, every person who contributes to the Catholic Ministries Drive is also standing with Driscoll and other candidates and catechumens seeking full communion with the Catholic Church.
The 2020 campaign, titled "Ignite Your Faith for Christ's Mission," is underway and focusing on three key areas: Forming Clergy and Laity, Nurturing Youth, and Caring for the Poor/Strengthening Families.
Contributions to the Catholic Ministries Drive support vital diocesan ministries, including Christian Initiation. The money allows the diocese to assist parishes with resources and events.
That is welcome news to those who dedicate themselves to helping the Church grow. 
"It's as good a ministry as you could possibly be involved in – being able to shepherd people on their journey," said Zierke, who has held his RCIA posts at Good Shepherd for the past 10 years and the State Correctional Institution at Benner Township for the past five years. "We're all called to do something in our faith journey. To me, I think my calling is to help bring people into the Church."
Driscoll, too, is grateful for all of the support he is receiving, and he cannot wait to fully embrace his Catholic faith.
"I definitely want to get involved in more ministries for sure, be involved more with the community in general, and just make it part of my life and help spread it to others," he stated.
---
Place your gift to the 2020 Catholic Ministries Drive in your parish offertory; mail it directly to the Diocese of Altoona-Johnstown, P.O. Box 409, Hollidaysburg, PA  16648; or donate online at www.dioceseaj.org/giving.
[Photos: RCIA Candidate Jack Driscoll (left), his sponsor, Melissa Karlheim, and Bill Zierke, RCIA Director at Good Shepherd Parish in Port Matilda. Inset: Bishop Mark welcomes Driscoll and Karlheim during the Call to Continuing Conversion at the Cathedral of the Blessed Sacrament in Altoona on March 1.]