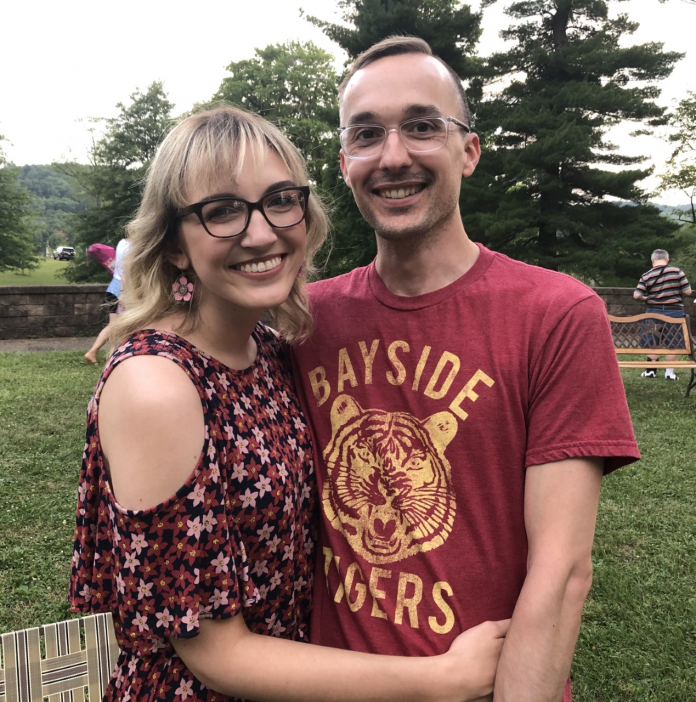 By Tony DeGol
Proclaim!
The Church brought Kevin and Kelli Slonka together, and it is still playing a role in keeping their union strong.
The pair met several years ago while singing in the choir at Saint John Gualbert Cathedral in Johnstown.  
Their shared passion for worshipping the Lord in song, along with support from fellow choir members and the wider Saint John Gualbert faith community, is a fixture in their partnership.
"I think it has shaped our relationship, keeping Church in our lives and trying to keep faithful," Kelli admitted.
Married for two years now, the Slonkas were among hundreds of husbands and wives on hand for the annual outdoor Mass for married couples on July 19 at the Our Lady of the Alleghenies Shrine in Loretto.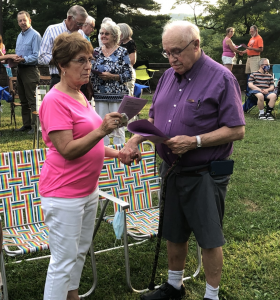 During the gathering, sponsored the Diocese of Altoona-Johnstown Family Life Office, the couples had the opportunity to reaffirm their matrimonial commitment to each other.
"Knowing there are so many people behind us and willing to support us means a lot," Kelli said.
"Seeing everybody here is great," Kevin added. "We didn't know how many people would be here, but seeing that so many were willing to show up late on a Sunday evening to celebrate their marriage, it's pretty great."
As always, Bishop Mark was the celebrant and homilist of the Mass. He took advantage of the opportunity to congratulate all married couples and reinforce the diocese's support for the sacrament and for all husbands and wives on the journey.
Marriage comes with ups and downs, the Bishop acknowledged, but perseverance is important.
"It's a tragedy that so many people will simply walk away out of frustration or anxiety or even fear of overcoming those challenges that we all experience," he said. "Too often in our world today, people will say 'forget it – it's not worth the effort,' but you and I believe and know the truth that yes, it is worth the effort."
In fact, it is more than worth the effort, the Slonkas insisted.
"You're going to get mad at each other, you're going to argue, there are going to be things you see completely opposite," Kevin shared. "But you have to talk through it. We've argued our fair bit, but we've always been calm and talked it out and made sure that whatever it was, we worked it out. You have to respect each other. You can disagree and you can argue, but at the end of the day you love each other."
Added Kelli: "And we're a team. I think that's a big thing. You have to be a team."
Editor's Note: Watch highlights from the outdoor Mass for married couples on Proclaim! on July 26 at 10:30 a.m. on WATM ABC 23.
[Photos: (Top) Kevin and Kelli Slonka at the outdoor Mass for married couples. (Inset) Couples reaffirm their commitment during the liturgy.]