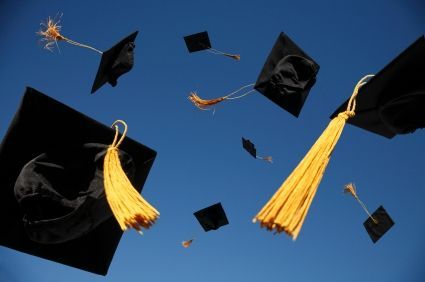 By Tony DeGol
Proclaim!
Video tributes are among the many plans to celebrate the Class of 2020 at the four Catholic high schools in the diocese, and hopes remain high that some form on in-person ceremonies can still happen at some time.
As previously announced, Bishop Mark will celebrate a private Baccalaureate Mass in honor of the graduating seniors on May 24. The liturgy will be broadcast live at 11:00 a.m. on WATM ABC 23 and rebroadcast that night at 9:00 p.m. on Atlantic Broadband channel 9.
"We are pleased the Bishop Mark will be celebrating our graduating seniors with a televised liturgy," said Lorie Ratchford, Principal of Bishop Carroll Catholic High School in Ebensburg. "We value the spiritual message that he delivers to the seniors during this memorable time."
Meanwhile, each of the schools are in the process of commencement planning.
Bishop Carroll is working on social media releases recognizing seniors. Ratchford said the school is working with news outlets that have reached out not only to Bishop Carroll, but other schools during this time to highlight senior accomplishments.
"It is important that the Class of 2020 have the closure of a formal graduation ceremony," Ratchford insisted. "This is something that they very much have earned and have been looking forward to since they started at Carroll."
Ratchford added that although there is no definite date, it is the school's intention to hold commencement exercises in late June or early July.
At Bishop Guilfoyle Catholic High School in Altoona, officials are monitoring the state guidelines in the hopes of celebrating an in-person graduation at the Cathedral of the Blessed Sacrament at a later time, according to Principal Joan Donnelly.
"In the meantime, we recognize what the seniors have missed already, so we are working on plans for a virtual commencement program to capture senior segments," Donnelly added. "We are planning to gather video footage of a presentation of each graduate, graduation speeches, and candid senior moments of their high school memories and plans moving forward."
BG will release the video presentation to seniors on their originally-scheduled graduation date of May 22.
Bishop McCort Catholic High School in Johnstown is also working hard to salute seniors. 
The school booked the Silver Drive-In for May 27 at 7:00 p.m., reported Principal Tom Smith, however plans are still not finalized and will be announced.
Saint Joseph's Catholic Academy in Boalsburg will post a Senior Acknowledgement video on social media on what would have been graduation day.
"While this video is not our graduation ceremony by any means, it pays tribute to our seniors on a day that we know will be difficult," admitted Head of School Jennifer Mallett.
SJCA is waiting to hear about future "shelter in place" plans and will then make a decision about commencement plans.
"We do plan on having a real life graduation ceremony – whether that be modified in person or a full graduation," Mallett continued. "Only time will tell us how we will celebrate our seniors." 
Among the other plans, the school will post a senior video that will highlight the graduates' time at Saint Joe's, and an awards video.