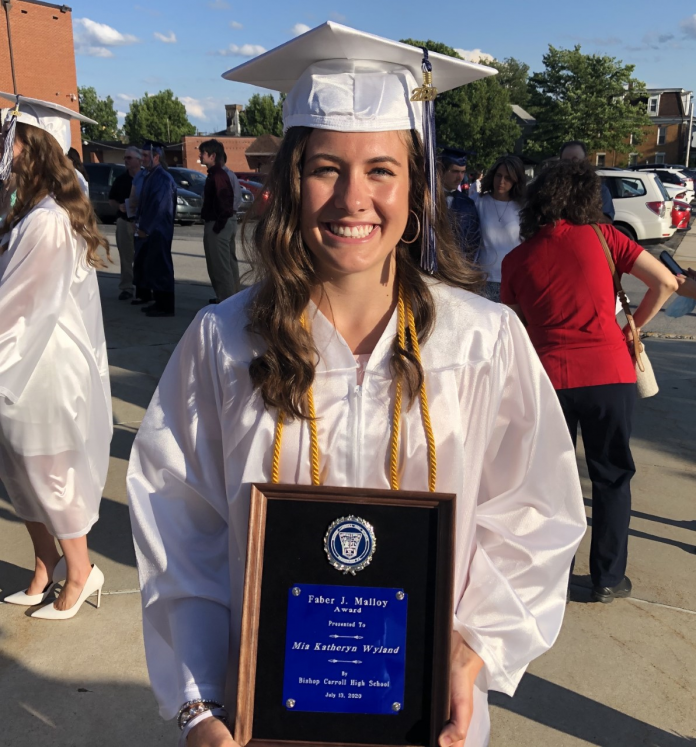 By Tony DeGol
Proclaim!
Regardless of how well they performed in Physical Education class, the Bishop Carroll Catholic High School Class of 2020 has truly shown its strength.
During a commencement ceremony that came almost two months later than expected, the resilience of the graduating seniors was evident, along with tons of happy memories from their career on Huskie Hill.
"We will go down as the class that survived the COVID-19 pandemic, something the world has never seen before," stated valedictorian Mara Yahner in her address. "We sacrificed those last few months at our beloved school for the hope that we could save the lives of others. Never forget that larger purpose we had to protect our neighbors. Our senior year did not end as planned, but this virus did not defeat us."
Like all other Catholic schools in Altoona-Johnstown, Bishop Carroll seamlessly continued Catholic education virtually when in-person classes were halted in mid-March. Unfortunately, senior rituals such as prom and a field trip never happened, nor did spring sports and other extracurricular activities.
Through it all, Yahner said she and her fellow classmates always felt bolstered by the entire Carroll family.
"I am so proud of the Class of 2020 and all of our supporters for showing me just how strong we can be when we stick together, even if together is six feet apart," she remarked.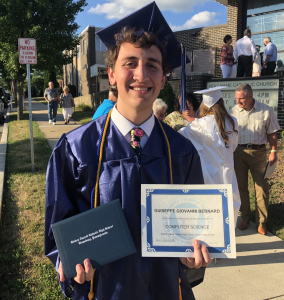 Yahner was among 47 seniors celebrated during the BC commencement exercises on July 13 at Holy Name Parish in Ebensburg.
The packed, but socially distanced, church was filled with family, friends, clergy, and others cheering on the graduates and wishing them the best.
"Being apart from one another these past few months has been difficult, but today we are here to celebrate your commitment to being witnesses of your Catholic faith and to celebrate your academic achievements," newly-retired BCCHS principal Lorie Ratchford told her former students. "Watching you grow spiritually, academically, artistically, and athletically over the course of our time together has been an amazing opportunity."
Ratchford said the graduates have grown immensely from when they separated in March, and she reminded them that their memories from Carroll will last forever.
"I am proud of you," she added. "I am blessed to know you. I am confident in your ability to use every gift God has given you to pursue your dreams."
Coming together one last time for commencement was worth the wait for the graduates.
"I am thrilled," said Mia Wyland with a wide smile. "I'm going to miss Bishop Carroll, but I'm very excited that we're finally done and we get to move on to our next chapter and start our new lives."
Fellow grad Guiseppe Bernard echoed Wyland's optimism.
"We made it," he exclaimed. "We might not have gotten the year we wanted, but at least we made it!"
Editor's Note: See highlights from the Bishop Carroll Catholic High School commencement on Proclaim! on July 19 at 10:30 a.m. on WATM ABC 23.
[Photos: Mia Wyland holding her Monsignor Faber J. Malloy Award (top); Guiseppe Bernard showing his diploma and a certificate of achievement.]