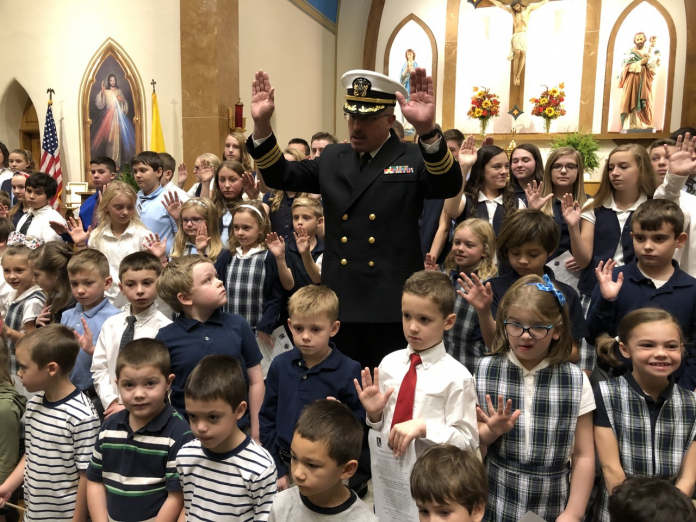 By Tony DeGol
Proclaim!
At a time when some people spurn celebrations of God and country and show disrespect for the American flag, Vietnam veteran Thaddeus Mikolajczyk walked away from a gathering at All Saints Catholic School with a very full heart.
"I can't say how much we thank the children and appreciate it," he said. "They put a lot of effort into making a memorable event for all veterans."
Certainly, the annual Mass and social in honor of veterans is a highlight of the school year not only for the students, but also for the men and women who proudly served our country, and for those who treasure them.
"So we honor all of these folks who have given themselves and dedicated their lives to service," stated Father Leo Arnone, Pastor of Saint Aloysius Parish, Saint Francis Xavier Parish, and All Saints Catholic School in Cresson. "We honor them equally for that gift. Because of their sacrifices, we have great opportunities."
A veteran of the United States Navy, Father Arnone was in good company with the many other veterans on hand for the uplifting liturgy. Following Mass, the student body gathered in front of the altar and paid tribute to the heroes in patriotic song.
"If anyone deserves our respect, it's our veterans because they put their lives on the line and they served our country, and no one deserves it more than them," said ASCS eighth grader Richard Scholzen.
"It is amazing seeing their faces, and you can tell they enjoy it so much, and we enjoy it as a school," added Lydia Myers, also an eighth grader.
The gathering was undoubtedly extra-special for fifth-grader Isaac Luther. Isaac's dad is a sergeant in the Army Reserves and was present for the Mass.
"I believe that I will one day grow up and be in the Army, and it means a lot for him to come and watch everyone in my school and me sing songs and celebrate Veterans Day," Isaac commented.
"Every year I come to this, and it brings tears to my eyes seeing the support from the community and the children – it's overwhelming," Sergeant Luther added.
Perhaps nothing summed up the spirit of the day more than Isaac's personal message to his dad:
"I love you, and thank you for serving our country."
[Photo: Amid a sea of ASCS student, Father Leo Arnone, offers a blessing to his fellow veterans following Mass and a tribute to veterans.]