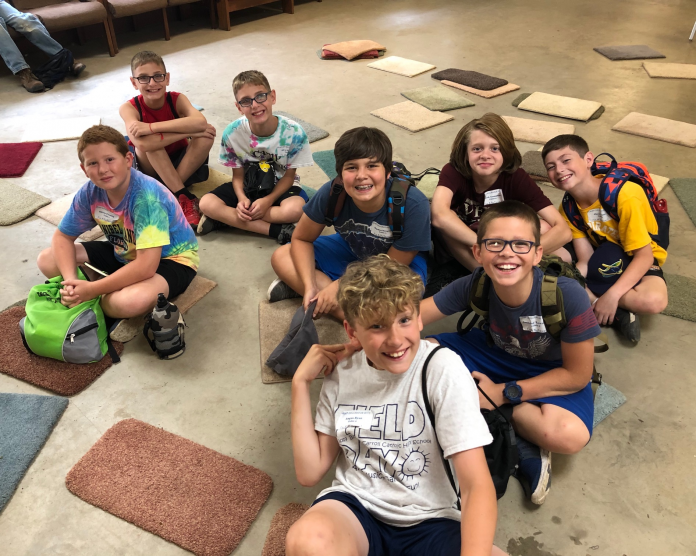 By Tony DeGol
Proclaim!
As a craft project, youngsters at Camp Zacchaeus 2019 had the opportunity to make little objects out of beads. 
Some of them chose to make frogs, and all of them "leapfrogged" in their faith throughout the week.
Held July 21-26, dozens of youth embraced the spirituality, camaraderie, and fun that only Camp Z can offer. Sponsored by the diocesan Office of Youth Ministry, students entering grades 4-9 are invited to participate in the ministry each year.
Immersed in another craft project – clothesline pin crosses – campers Catie Cammarata and Vivienne Compton gushed about the experience.
"You get to be with your friends, and you get to do a bunch of different activities that are really fun," noted Cammarata, a member of Saint Rose of Lima Parish in Altoona.
"And then at night, right before you go to bed, you have evening devotion, which is different forms of prayer you can do," explained Compton, a parishioner at Sacred Heart in Altoona. "And there's a campfire before that where you sing a bunch of songs. That's really fun."
Amid all that fun comes a hefty dose of the Catholic faith.
"It just makes me think of how much God does for us, and how much He loves us," said camper Clare Lessard, a member of Saint Nicholas Parish in Nicktown.
That sentiment was exactly what Camp Director Francine Swope loved to hear.
"We're trying to convince our campers that, yes, they are Catholic Christians, and every time we go to Mass we profess the Creed, but do you really believe what you're saying, or are you just saying it because you have it memorized?," posed Swope.
The theme for Camp Z 2019 was "I'm a Believer," and based on what she witnessed, the students surely do believe.
"They're happy to learn more about their faith, they're happy to learn more about their faith and grow deeper in that relationship with Jesus," she continued.
Once again, Father Brian Saylor, Pastor of Saint Rose of Lima Parish in Altoona, served as camp chaplain. He, adult staff, and counselors assisted Swope throughout the week.
Diocesan Director of Vocations Father Matthew Reese celebrated Mass on one of the days, and Father Brian Warchola, Pastor of Holy Name Parish in Ebensburg, and Father George Gulash, Pastor of Resurrection Parish in Johnstown, visited and showed their support for the campers.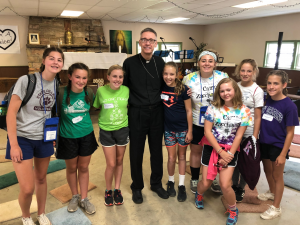 Bishop Mark L. Bartchak also spent much of a day engaging in the Camp Z experience. After celebrating Mass, he enjoyed lunch with the kids and then fielded their thought-provoking questions about the faith.
Camper Lola Wilson thoroughly enjoyed hanging out with the Bishop, but there were other highlights, too.
"The pool is really fun, and I think my favorite part was the campfire," said the parishioner of Saint John the Evangelist in Everett. "It's just fun to be here when you have friends who you can meet who are nice."
[Photos (from top): Campers are all smiles as they hang out; Campers Catie Cammarata and Vivienne Compton display their crafts; Adult staffer Jean Vasilko leads a Large Group Evangelization; and Bishop Mark poses with some of the campers.]