By Tony DeGol
Proclaim!
When Matthew Graham and Nick Pantelis connected through a Facebook group and became roommates at Penn State more than two years ago, they did not realize they would ultimately share a life-long bond through the Catholic Church.
A Mechanical Engineering major from Reading, Graham's pull to the faith began when he started going to Mass with friends last semester.
"Every time I went, I felt closer to God," he noted. "So now I continue this journey with the RCIA program at Penn State, and I feel even closer."
As Graham continues on his path, Pantelis, a Pittsburgh native studying Chemical Engineering, is right at his buddy's side.
"It's so great to see how our relationship has evolved from not knowing each other to eventually being his sponsor," he mentioned. "This is just something I'm really blessed to be able to do, and I thank God every day for it."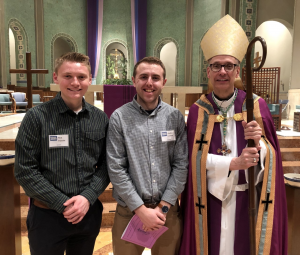 The two juniors were among those present at the Rite of Election and Call to Continuing Conversion on March 1 at the Cathedral of the Blessed Sacrament in Altoona and Saint John Gualbert Cathedral in Johnstown.
The ritual – always on the First Sunday in Lent – gives Bishop Mark the opportunity to formally welcome those who will be fully initiated in the Catholic Church during the Easter Vigil.
During the ceremony, Catechumens, or those seeking Baptism, sign their name in the Book of the Elect. Their presence at the Rite of Election is a public recognition of their commitment to their new life in God.
Candidates, such as Graham, who are already baptized and desiring full communion, receive special recognition and a blessing from the Bishop during the Call to Continuing Conversion.
In lay terms, the ritual is a visible sign of the Church alive and growing. Jeanne Thompson, diocesan coordinator of Christian Initiation, summarizes it more beautifully.
"This is God's amazing grace in living color," she said just minutes before the opening procession during which the catechumens, candidates, their sponsors, pastors, and others walked down the center of the Cathedrals behind banners representing their parish or faith community.
"This is a time of excitement," Thompson continued.  "They're just on fire. They're happy that they're going to be meeting the Bishop, they're happy to be here with other people from around the diocese, they're just glad to be part of this celebration of Jesus in their lives and know that they're going to be a member of our Catholic Church."
This year, the diocese is welcoming 37 catechumens and 43 candidates. They come from numerous parishes, college campus ministry programs, and state correctional institutions.
Although the inmates could not be physically present at the Rite of Election, their desire for a relationship with the Lord is powerful.
"They're kind of forgotten by society," reminded Bill Zierke, RCIA Director at Good Shepherd Parish in Port Matilda and SCI Benner Township. "They might have made one mistake in their life, they got penalized, but they want to find God as much as anybody does – maybe even more so because they really need the Church. They're great people. I'm honored to work with them."  
 During his homily, Bishop Mark reminded those to be initiated about what awaits them in the Church.
"All of you candidates and catechumens will be asked to make a profession of faith at the Easter Vigil, and that profession is not one of sin," he said. "You don't have to announce what you've done wrong in the past, you don't have to worry about darkness or being condemned. It's about light, it's about peace, it's about forgiveness, it's about the merciful love and the promise of eternal life that comes to us in Christ, Jesus."
For Graham, who is receiving something more valuable than a Mechanical Engineering education at Penn State, that promise means so much.
He cherishes the focus and clarity his RCIA journey is giving him, and he is excited for the future.
"I'm just eternally grateful, and I want to give back to the Church in any way I can," Graham assured.
Editor's Note: For more sights and sounds from the Rite of Election and Call to Continuing Conversion, please watch the March 8 edition of Proclaim! TV at 10:30 a.m. on WATM ABC 23. 
[Photos: (Top) Sponsor Nick Pantelis places his hand on candidate Matthew Graham's shoulder during the Call to Continuing Conversion. (First Inset) Graham and Pantelis pose with Bishop Mark after the ritual. (Second Inset) A catechumen signs the Book of the Elect with his sponsor, Bishop Mark, Deacon Donald Gibboney looking on. (Third Inset) Banners represent the various parishes and faith communities represented at the Cathedral of the Blessed Sacrament for the ritual.]