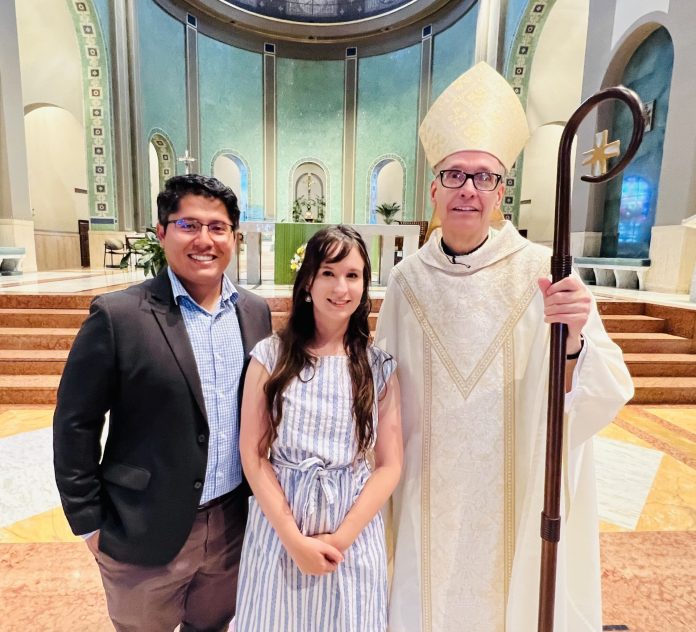 By Tony DeGol
Proclaim!
For Peter and Brenna Butler, the goal in their marriage is perfection.
They realize that aim is an ambitious one, but with God at the heart of their sacramental union, they are ready to keep trying.
"None of us are perfect, so having the Lord as a role model and example helps us to progressively become better people, and that's what we always strive to be in our marriage," Peter explained. "Having Christ as the center of the marriage allows us to understand our flaws with each other and hopefully show each other that we're trying towards perfection, but we understand we're not there."
Indeed, Jesus is the third person in the Butlers' marriage.
"In some of the challenges we've gone through, I have felt that Jesus is that rock that you can cling to and be steady," Brenna added.
This year marks a milestone for the couple, members of Our Lady of Victory Parish in State College, as they celebrate their five year wedding anniversary.
They were among dozens of husbands and wives throughout the Diocese of Altoona-Johnstown who attended the annual Wedding Anniversary Liturgies on September 10 at the Cathedral of the Blessed Sacrament in Altoona and September 17 at Saint John Gualbert Cathedral in Johnstown, both celebrated by Bishop Mark and sponsored by the Diocese of Altoona-Johnstown Family Life Office.
Included in the recognition were veteran couples such as Frank and Katherine Roscia of Our Lady of Mount Carmel Parish in Altoona celebrating 79 years; Gerald and Rita Kibler of the Cathedral of the Blessed Sacrament in Altoona marking their 71st anniversary; and Leonard and Louise Capouellez of Transfiguration Parish in Conemaugh and Dennis and Patricia Penatzer of Holy Name Parish in Ebensburg all celebrating 70 years.
Some rookie couples also took advantage of the opportunity such as Fred and Margie Zeiler of Saint Andrew Parish in Johnstown, who are marking their first anniversary.
The Butlers were among those celebrating five years, along with Kevin and Kelli Slonka, parishioners of Saint John Gualbert Cathedral, and Thomas and Cynthia Westrick of Saint John Vianney Parish in Mundys Corner.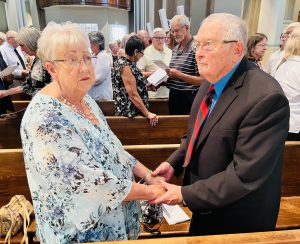 During the Masses, the husbands and wives stood and faced each other for a blessing by the Bishop, after which their names were read and the Bishop offered his personal congratulations.
In his homily, Bishop Mark reminded those in the pews that the love that is unique to married couples should be filled with fidelity and mercy.
"They are the tools that help husbands and wives grow old together in love for each other and for their children," the Bishop added. "That's the reason why we celebrate today in this anniversary Mass. Your marriages give witness to what Jesus says in the Gospel: 'You are the salt of the earth.'"
For the Butlers, good role models are not too far away.
Peter's grandparents were present at the Mass as they celebrate 60 years of marriage.
"Just seeing the challenges they faced and how the Church also supports them and supports us, it's always upward and onward," he assured.
[Photos: (Top) Peter and Brenna Butler pose with Bishop Mark after the Mass. (First Inset) Bishop a couple during the liturgy. (Second Inset) Herman and Sandra Nagle of Saint Therese of the Child Jesus Parish in Altoona, receive a blessing for married couples during the Mass. Mr. and Mrs. Nagle are celebrating 60 years of marriage.]