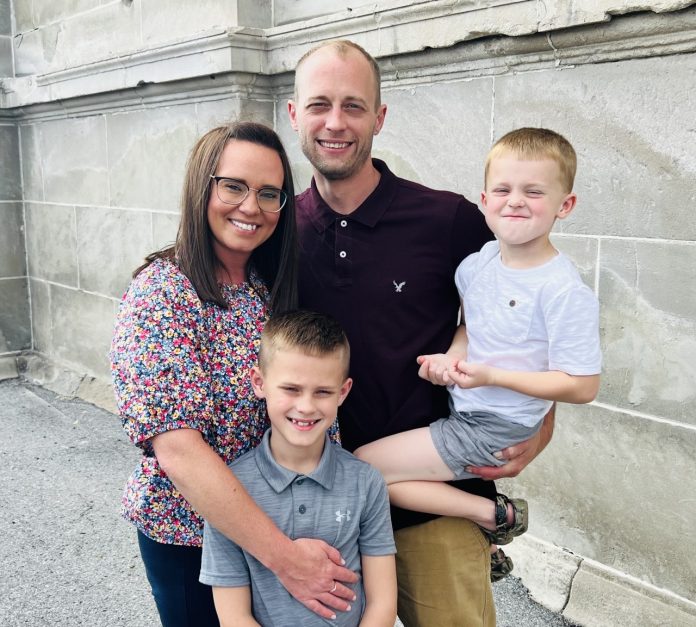 By Tony DeGol
Proclaim!
Where does the time go?
Many husbands and wives in the Diocese of Altoona-Johnstown have probably been asking themselves that question over the past few weeks as the great tradition of saluting couples marking milestone wedding anniversaries continued.
Among them are Matt and Adrienne Rosmus, members of Saint Benedict Parish in Carrolltown, who are celebrating a decade as man and wife.
"It's been a good ten years, and our church, our family, and our community has just meant everything to us," Adrienne reflected. "It's very comforting and rewarding to see all of the other couples who are celebrating many more years of marriage. "
In fact, many couples took advantage of the opportunity to attend one of the two Wedding Anniversary Liturgies on September 18 at the Cathedral of the Blessed Sacrament in Altoona and on September 25 at Saint John Gualbert Cathedral in Johnstown, sponsored by the Diocese of Altoona-Johnstown Family Life Office.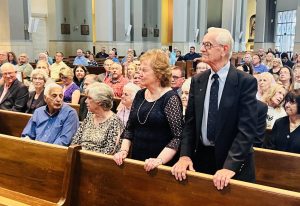 Especially inspiring were those celebrating 70+ years together, including Frank and Katherine Roscia of Our Lady of Mount Carmel Parish in Altoona at 78 years; Saint Joseph, Bellwood, parishioners Alois and Mary Poppenwimer at 71 years; and Richard and Flo Cowan of Saint Clement Parish in Johnstown, Cletus and Helen Illig from Saint Michael Parish in Hollidaysburg, and Gerald and Rita Kibler of the Cathedral of the Blessed Sacrament, all marking 70 years.
"In marriage, a husband and wife are certainly united with each other, but that union is even more wonderful and powerful when a husband and wife ask God to become a partner in their marriage," reminded Bishop Mark in his homily. "When God is invited and enters into the shared life of a husband and wife, they receive the strength and blessing to live whatever joys and challenges they may experience."
During the Masses, husbands and wives had a chance to renew their sacramental commitment to each other, and each registered couple was acknowledged by name with the Bishop looking on and sharing his best wishes with everyone.
Paul and Louise Krug, members of Saint Joseph Parish in Bellwood, will celebrate their 50th anniversary in a matter of days.
"Some of the highlights have been having children, and some of the lowlights have been having children," Louise said with a chuckle. "Children are a challenge, but they are certainly a joy, and now that we have grandchildren, it's even more of a joy."
It is comforting to remember that married couples are not alone, but walk the road together with the Lord and others, Louise noted.
"The Church is truly been a family from which we gain a lot of support," she mentioned.
"We've also had a lot of support from the priests we have encountered," added Paul. "Our Church family is truly a family of God's people. We appreciate being a part of that family."
Matt and Adrienne, the parents of two young boys who attend Saint Benedict School, are also grateful for the support of the Church.
They shared some advice for other couples.
"Don't sweat the little things," urged Matt.
"I think the first few years is about getting to know each other and being patient," added Adrienne. "Always remember to love and to have faith in one another, and you'll get through the tough times."
[Photos: (Top) Matt and Adrienne Rosmus and their sons; (First Inset) Stephen and Joyce Veckov, members of Saint Mark Parish in Altoona, standing for acknowledgement of their 60 years; (Second Inset) Paul and Louise Krug.]