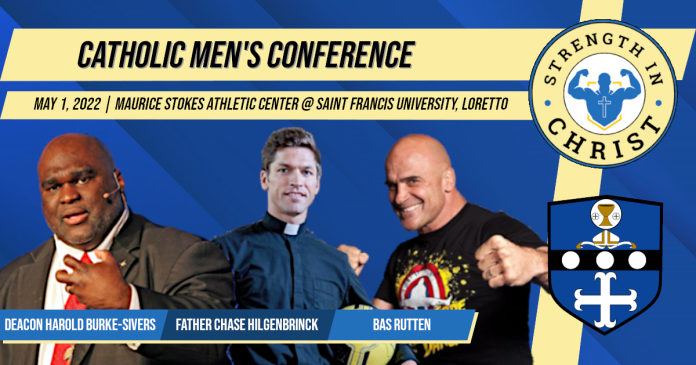 By Tony DeGol
Proclaim!
A professional soccer player turned priest, a man nicknamed the "Dynamic Deacon," and a mixed martial arts champ are the headliners for an upcoming men's conference sponsored by the Diocese of Altoona-Johnstown.
Titled "Strength in Christ," the gathering is scheduled for Sunday, May 1, 2022, at the Maurice Stokes Athletic Center at Saint Francis University in Loretto.
Father Chase Hilgenbrinck, a priest of the Diocese of Peoria, Illinois, and Director of Recruitment in the Office of Priestly Vocations, is one of the speakers.
Before entering seminary and being ordained to the priesthood in 2014, Father Hilgenbrinck enjoyed a career as a professional soccer player.
Despite living what he thought would be a dream situation, he questioned his priorities and where he was going. 
"I didn't feel that I was living greatness," recalled Father Hilgenbrinck. "I was praying for comfort in my life, and it was there in the silence of that chapel, and in the silence of my heart, that I heard the loudest voice that was never audibly spoken. At that moment, I heard, 'Be my priest.'"
The young athlete initially rejected that call and went on to greater success on the soccer field.
Eventually, he realized that only the priesthood could satisfy the longings of his heart.
"The Church needs good and faithful men and someone to turn the tide, and respond to the call of God in their life, and to live out whatever He has planned for us," Father Hilgenbrinck said. "If we do that, then people are going to start talking a different way about the Catholic Church, about Christianity, about men, in general, in our culture. Nothing is better than fulfilling the role that God has chosen for you."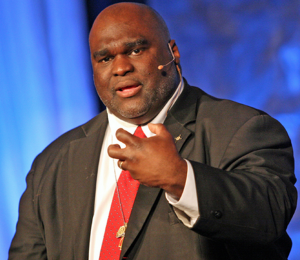 Deacon Harold Burke-Sivers is also scheduled to speak at the men's conference.
One of the most sought-after speakers in the Church today, the deacon is a passionate evangelist and preacher whose no-nonsense approach to living and proclaiming the Catholic faith inspires global audiences.
Known as the "Dynamic Deacon," Burke-Sivers speaks at conferences, workshops, retreats, parish missions, high schools, and young adult events. He is also an author and radio host.
Mixed martial arts champ and TV/movie star Bas Rutten will make a return visit to the Diocese of Altoona-Johnstown for the men's conference. Rutten headlined a parish-based men's conference at Holy Name in Ebensburg last fall.
Among other things, he spoke about pride at the conference, and how it prevents us from having a deeper relationship with Christ.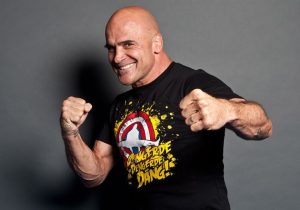 "Guys right now believe they can do whatever they want to do, they're in control, and it means absolutely nothing," Rutten said in a Proclaim! TV interview following his speech. "To be a real man, you have to say 'no' to all the bad stuff. Society makes us believe that doing whatever you want makes you cool, but you're not. You have nothing under control. You are a slave to your vices."
Rutten is outspoken about his faith journey over the years, including how he reconnected with the Church through actor Kevin James on a movie set.
"The thing about Catholicism is that as soon as you start learning about it, you're hooked," Rutten assured. "Everybody is looking for the truth. You have nothing to lose, but you have everything to gain."
In addition to the three speakers, attendees of the men's conference will have the opportunity for the Sacrament of Reconciliation, and Bishop Mark will celebrate a closing Mass, to which the families of the attendees are welcome.
"I think it's always good for men to come together as Christians and realize that we're all brothers in Christ and be in love with the Catholic faith, and be a better father, husband, son, or brother and realize that we are called to holiness," explained Father Brian Warchola, Pastor of Holy Name Parish in Ebensburg and coordinator of the men's conference for the diocese.
The gathering will begin at Noon with lunch. The cost is $10. Click HERE to register online or visit any parish in the Diocese of Altoona-Johnstown for a hard copy registration form, which can be mailed to the diocese. Reservations are required by April 25.
"We all fall flat from time to time or get into a rut," Father Warchola admitted. "God is going to give us opportunities to pull ourselves out of that. This will hopefully be a wonderful opportunity to do so."
Editor's Note: For a preview of the "Strength in Christ," men's conference, watch a special edition of Proclaim! TV featuring Father Chase Hilgenbrinck, Deacon Harold Burke-Sivers, Bas Rutten and Father Brian Warchola. The show airs on February 20 at 10:30 a.m. on WATM ABC 23.