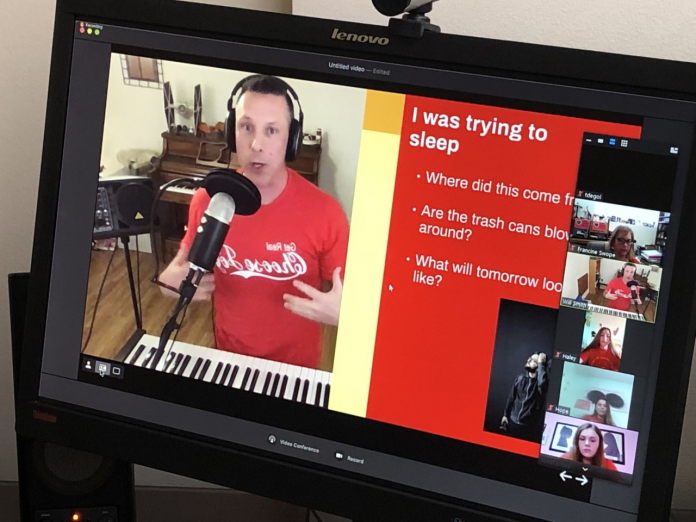 By Tony DeGol
Proclaim!
Like it or not, moms are always right.
So says Will Smith as he thinks back to some words of wisdom from his mother.
"She would always say to me that worry and trust don't go together – especially when it comes to our Lord," he recalled.
Smith shared that inspirational reminder with a large and enthusiastic group of junior high students during the first of three virtual gatherings for youth and young adults sponsored by the Diocese of Altoona-Johnstown Office of Youth Ministry.
Open to students in grades six, seven, and eight, the theme was "Trust in the Lord With All Your Heart."
In that spirit, Smith stressed the importance of privately praying to the Lord – especially during this time when public Masses are not being celebrated.
"That's why it's so important right now that if you pray to God, aren't you trusting in Him also?," Smith asked. "So why are you worrying about it? If you are praying to God, you should also trust that He is going to take care of it."
He also encouraged the youth to think beyond themselves during these unusual times.
"One of the easiest ways to forget how difficult things are right now is to do something for someone else," he suggested.
Smith is the Director of Music at Mother of Sorrows Parish in Murrysville in the Diocese of Greensburg and active in youth ministry outreach. He has been a featured presenter at Diocese of Altoona-Johnstown youth events such as Junior High Youth Day and Senior High Youth Conference (SHYCON).
With in-person events not happening because of the pandemic, the virtual gatherings are an opportunity for young people to stay connected to their faith, insisted Francine Swope, Diocesan Coordinator of Youth Ministry.
Her office also presented a virtual night for senior high students with the theme "Facing the Storms of Life."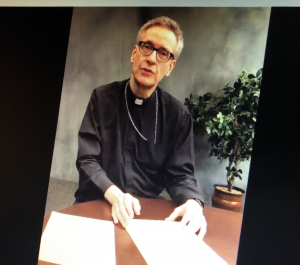 During both events, Bishop Mark presented a video reflection and prayer in keeping with each theme.
Echoing Smith's comments to the junior high students about the importance of prayer and trust, the Bishop offered four key suggestions, including not depending solely on oneself. 
"That's probably the most difficult step because it involves taking a risk," he cautioned. "Sometimes trusting the Lord can be tough."
In conversations with the Lord, the Bishop urged the youth to cry out to Him.
"Prayers should include all of our thoughts and feelings and everything that's going on inside of us, and it needs to be honest," he added.
"Run away from evil," the Bishop continued. "Avoid things that tempt you. They might make you happy for a minute or two if you give in to temptation, but in the end our sins and all the trouble we get into usually ends up making us sad and disappointed inside about ourselves."
Always make God number one, Bishop Mark also urged.
"Go to Jesus first with everything that goes on in your life," he directed. "Go to Jesus with all the things that are huge challenges. Always make the Lord first in your life by trusting him and asking him to guide you and give you the direction you have to go when you're trying to make a decision and ask him to keep you safe and keep you strong. Do what he tells you, as Jesus teaches us in the Gospel: love God, love your neighbor, and love yourself."
The third and final gathering in the virtual series will be an event for young adults on May 29 at 7:00 p.m. The theme will be "Living with Joy and Hope." Men and women ages 18-35 may register through the diocesan website.
Editor's Note: Watch highlights from the Office of Youth Ministry's virtual gathering for junior high students on the June 7 edition of Proclaim! TV
[Photos: Presenter Will Smith speaks about trusting in the Lord (top); a Zoom screen shot of junior high students taking part in the virtual youth gathering (first inset); Bishop Mark shares ideas for young people to grow closer to God in a video message (second inset).]