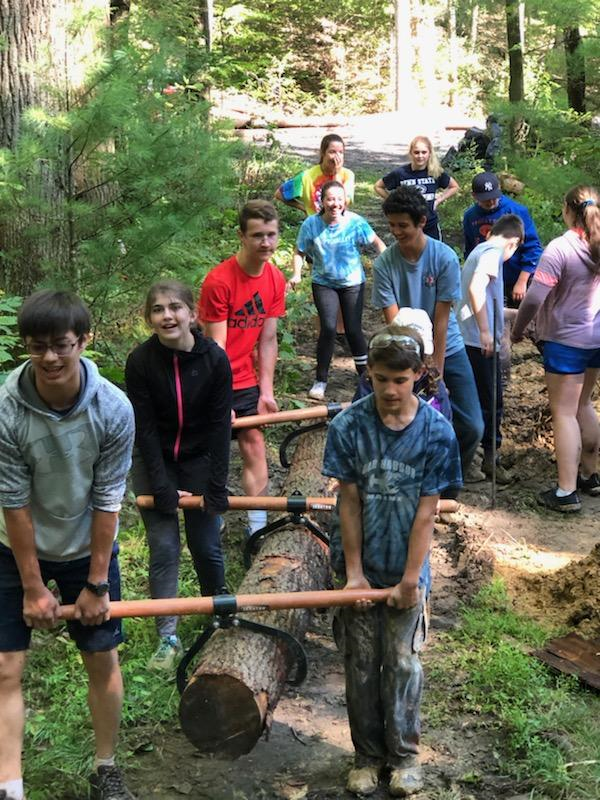 The students from Our Lady of Victory Catholic School in State College and Saint Joseph's Catholic Academy in Boalsburg were instrumental in helping restore and conserve parts of Laurel Run near Whipple Dam.

With the help of the Department of Conservation and National Resources (DCNR), the United States Youth Fly Fishing Organization and Trout Unlimited, student's efforts will reduce the collection of sediment that ends up in Whipple Dam and will help improve the stream habitat. This project will have an immediate and long term impact. 
 

Students helped to construct wild trout in-stream habitat enhancement structures and built structures to prevent erosion along the bank of the stream. They used sledge hammers to drive rebar into cut and fallen trees. Boulders were then placed on top of the structure.  The log, rebar, and boulder structures will redirect the stream, prevent erosion and add habitats to the creek near Whipple Dam.
 
OLVCS 8th grader, Helena Sicree, commented, "One of the reasons why I liked stream restoration was because, honestly, I was thrilled that I got to swing a giant hammer.  I also felt good about helping my state's environment."
 
John Ford, United States Youth Fly Fishing Team Inc., spearheads this effort and was able to secure grants from Patagonia and from the S. Kent Rockwell Foundation to undertake these Wild Trout Habitat Projects.  
 

John Ford explained, "We invite students to gain an understanding and participate in the care of our Pennsylvania waters. The student's involvement will create improvements to the stream that will last for years. Our goal is to give the students stream-side opportunities to promote conservation awareness and hands-on projects."