By Tony DeGol
Proclaim!
Saint Matthew School in Tyrone is celebrating its 150th anniversary – a milestone that boggles Grace Naylor's mind.
"It's crazy!," laughed the sixth grader. "Even my pap wasn't alive then!"
Naylor, her classmates, and the entire school family will be celebrating the entire year.
"We have many things planned that will involve not just the students, but the whole school community – the parish, the families, and the faculty," said Principal Debbie St. Pierre.
"Every month we're going to have one or two different celebrations within the community and for the outside community," added the Pastor, Father Jozef Kovacik.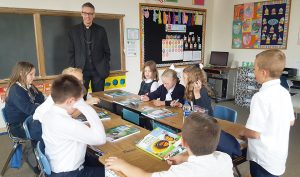 The festivities began with a Mass with Bishop Mark on September 23. After the liturgy, a drone flew over the school to take a photo of the students in the shape of 150. Lunch included a special treat – cupcakes and ice cream.
"It's a very special occasion, obviously, and something unique that we don't experience a lot," Father Kovacik said. "It is a joy to see parishioners who themselves have gone through Saint Matthew School – many of them – and now we have our current staff and children attending."
The school remains committed to upgrading technology and making other enhancements so children can grow academically and spiritually, Father Kovacik stressed.
Reaching 150 years is a huge achievement for a Catholic school, reminded Diocesan Director of Education Jo-Ann Semko.
"While teachers and uniforms have varied throughout the decades, anyone who has been part of the Saint Matthew School community can attest that this school has been, and continues to be, a great treasure," Semko said. "It has given many students, their families, and society many gifts of leadership and Catholic values as it has enriched the lives of the entire Saint Matthew/Tyrone community."
One of the keys to Saint Matthew's success has been remaining true to its core commitment of offering a stellar education in a wholesome Catholic environment, Semko added.
"It is with great pride that the Diocesan Education Office congratulates Saint Matthew School families both present and past," she offered. "Here's to the next 150 years!"
[Top photo: Saint Matthew students gathered in the shape of 150 to celebrate the school's anniversary milestone.]
[Inset photo: Bishop Mark visited classrooms after celebrating Mass in honor of the 150th anniversary.]