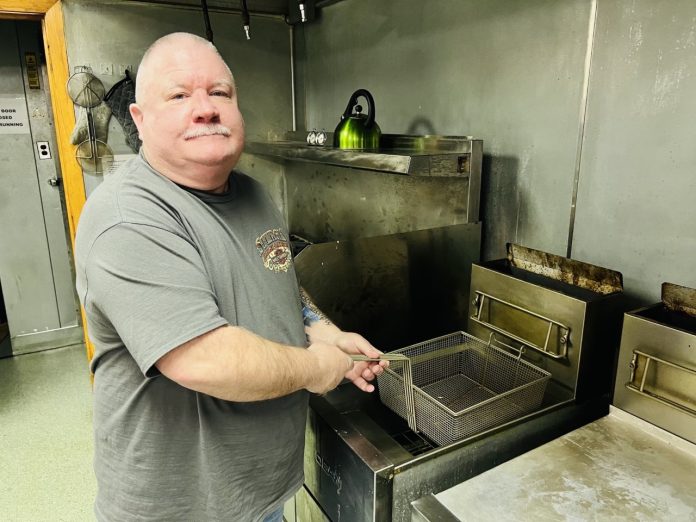 By Tony DeGol
Proclaim!
Jim Schellhammer is not ready to say that things are completely back to normal in our pandemic world, but he is ready to say that it is time for folks to safely gather again as a community.
A lifelong member of Our Lady of Lourdes Parish in Altoona, Schellhammer runs the parish's popular fish dinners every Friday night during the Lenten season.
After two years of not hosting eat-in meals or even take-out, the tradition is returning this year.
For Schellhammer, it is not a moment too soon.
"The past two years have been like a hole in my life," he admitted.
He has surely missed the camaraderie among the many volunteers who prepare, cook, and serve the delicious eats.
"We have a good time in the kitchen," Schellhammer laughed.
He has also missed quality time with the parishioners and non-parishioners who gather to enjoy food and fellowship.
"I'm looking forward to seeing people I haven't seen in two years," he added.
One of Schellhammer's jobs is cooking the fish, but, as a registered nurse, he will also be making sure every precaution is taken for health and safety.
"I'm going to do it just like they would at the hospital," he explained. "We're going to ask our volunteers that if they're not feeling well to not come in. We're going to be washing our hands several times during the evening and wearing gloves for precautionary reasons."
The Very Reverend Tom Stabile, TOR, VF, Pastor of Holy Family in Portage, said his parish is not ready to return to in-person dining yet, but is once again offering take-out service on three particular Fridays to keep the tradition alive.
"I hope we can eventually get back in in-person dining," he said. "It's a nice social event. It's a nice blend of the community."
For Schellhammer, who recently retired from nursing, this will be the first time he is able to devote time during the day to help with the dinner prep, in addition to his evening duties.
"I'll be frying the fish and keeping an eye on the baked fish," he assured. "It feels like family when we're back together again."
[Photo: Our Lady of Lourdes parishioner Jim Schellhammer stands ready to cook fish for the return of the parish's popular Lent fish dinners.]