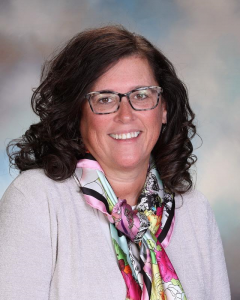 Bishop Carroll Catholic High School has announced that Lorie Ratchford will return as Interim Principal at Bishop Carroll Catholic High School.
Ratchford graduated from Bishop Carroll in 1986. In 1991, she began teaching American Literature and World Literature at her alma mater. In 2011, she became principal, retiring in 2020. Lorie's husband, Don, and both of their children, AJ and Caroline, are Bishop Carroll grads.
Bishop Carroll's Board of Trustees reached out to Mrs. Ratchford to revive her role as principal for an interim period while they seek and evaluate candidates to fill the position permanently.
"I am very happy to return to Bishop Carroll and contribute in this capacity," Ratchford said. "Bishop Carroll has always been an important part of my life, and I am grateful for the opportunity to be of service to our Board, faculty and staff, families and most especially the students."
Board of Trustees Chairman Chris Smith said Ratchford was the obvious choice to take the helm at Bishop Carroll given her extensive experience and deep commitment to the school's success.
"Lorie is an exceptional educator and a great leader," he added. "We know our students and faculty are in capable hands while we continue to seek a permanent principal. We are grateful and thrilled she has agreed to come back on board short-term."