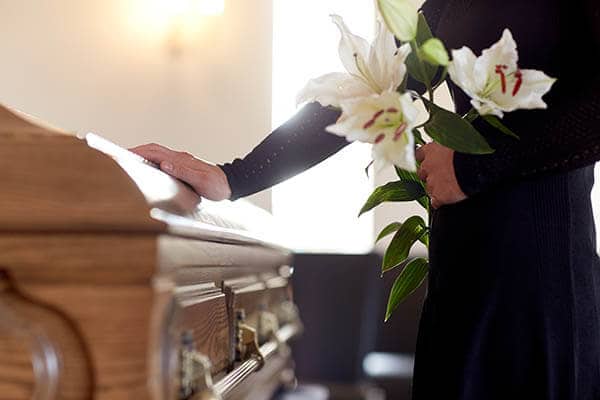 By Tony DeGol
Proclaim!
When Celeste Stolz was planning her mother's funeral shortly after Easter, she knew the arrangements would have to follow the directives in effect as a result of the coronavirus pandemic. She did not expect, however, the peace and simplicity she would experience as a result of the changes.
"Everything focused on my mother," Stolz recalled. "I wasn't distracted by a lot of people and a lot of other things."
In a world in which seemingly everything has been impacted by COVID-19, certainly the way we bid farewell to our loved ones has changed, too.
According to directives issued by Bishop Mark, "Funeral services may be celebrated in accord with the limits on attendance, after consultation with the funeral director, keeping in mind the opportunity for memorial Masses at a later date."
The state has directed to funeral homes that no more than 10 people be present for visitations and services.
For Stolz, the size limitation was not a significant issue. She and her brother, Kevin, attended, along with six of their closest family friends.
The small gathering was prayerful, which is exactly what her mother, Marian, would have wanted, said Stolz, a parishioner at the Basilica of Saint Michael the Archangel in Loretto.
Obviously, the size restrictions are more challenging for larger families.
"That's kind of tough for them," admitted Fred Gibbons of Gibbons Funeral Home in Gallitzin. "Some people have big families with 30 or 40 members. I let them choose who can be present."
During this time, Gibbons said he plans with families over the phone, but someone still must physically come to the funeral home for a casket selection.
"We've been doing what the state wants us to do," he added. "I think it has been working."
While there is no one-size-fits-all solution for every family, the Catholic Church remains committed to its sacred obligation of burying the dead – even in these extraordinary times.
"The pastoral consequences of this quarantine, despite being necessary, are serious," explained the Very Reverend John Byrnes, JCL, JV, Rector of the Basilica of Saint Michael the Archangel and Judicial Vicar for the Diocese of Altoona-Johnstown. "The needs of each family are different. While a small funeral Mass with ten people in our Basilica is appreciated by some, others are having a small graveside service and planning a memorial Mass for the future. The modern technology is a great help, but there is no substitute for the human contact that people need in time of mourning."
In this time of loss for Stolz, she is comforted by the final hours she was able to spend with her beloved mother and the days that followed.
"Amid all this, the Lord has brought us to our knees in so many ways," Stolz remarked. "Our goodbye was special, and I think the calmness and simplicity made it so much better."