By Tony DeGol
Proclaim!
When Gary Evangelisto began his teaching career in Catholic education, there was no internet or social media, students used encyclopedia instead of Google searches, and the only Smartboard in the classroom was the chalkboard.
Obviously, times have changed, but Evangelisto's dedication to his vocation has not.
The Holy Trinity Catholic School Math teacher was recognized for 45 years of service in the Diocese of Altoona-Johnstown during the annual diocesan educator in-service on September 27 at Our Lady of Victory Parish in State College.
"It's something I planned on doing my whole life – being a Catholic school teacher," Evangelisto reflected. "I realized God called me to be here and as I learned more and more about the kids and their families, I knew this was where I was supposed to be."
Evangelisto began teaching in 1973 at the former Saint John the Evangelist School in Altoona. He served as principal of the school for a period of time before returning to the classroom there.
When Catholic schools in Altoona and Hollidaysburg regionalized into Holy Trinity Catholic School in 2015, Evangelisto was hired to continue his teaching career at the middle school campus.
After more than four decades of impacting students' lives, Evangelisto, who is also a coach, proudly admits that he keeps in touch with many former pupils – even some from his first year of teaching.
He encourages fellow teachers to truly know their students.
"There's two parts to their life: the one you see every day and what goes on behind the scenes that you don't know about," Evangelisto stressed. "You need to get to know who they are so that you can be there and give them direction. If you're going to do it right, you've got to be involved with the kids."
Not far behind Evangelisto in years of service are teachers Donna Shank of Lock Haven Catholic School and Margaret Sindleri of Divine Mercy Catholic Academy in Johnstown. Both were recognized for 40 years of service.
Educators marking five, 10, 15, 20, 25, and 30 years were also lauded. Two educators – Jill Harris, principal at Saint Peter School in Somerset, and Mary Frances Truscello, teacher at All Saints Catholic School in Cresson – were saluted for reaching Master Catechist status.
"My sincere congratulations to those we just honored with these awards," offered Bishop Mark L. Bartchak, who was a high school teacher in the Diocese of Erie immediately after his priestly ordination. "Teaching is a profession – a vocation – that I cherish. In fact, my Catholic education had everything to do with my vocation to the priesthood, so I want to thank all of you for the encouragement that you give, especially by handing down the faith to our young people."
For Evangelisto, his teaching vocation has been the journey of a lifetime.
"I really enjoy what I'm doing," he added. "There's not a lot of people who can say it's not a job, it's my vocation. I love being with the kids and the families."
[Top photo: Bishop Mark; 45-year honoree Gary Evangelisto, Holy Trinity Catholic School; Diocesan Director of Education Jo-Ann Semko; and Executive Program Assistant Peggy Beck.]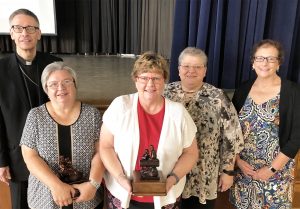 40 YEARS: Bishop Mark; Margaret Sindleri, Divine Mercy Catholic Academy; Donna Shank, Lock Haven Catholic School; Semko; and Beck.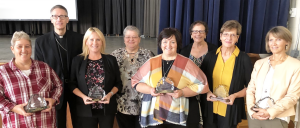 30 YEARS: Beth Damiano, Holy Trinity Catholic School; Bishop Mark; Angela Gardner, Holy Trinity Catholic School; Semko; Elaine Spencer, Holy Trinity Catholic School; Beck; Suzanne Provenzano, Bishop Guilfoyle Catholic High School; and JoAnne Venturino, Our Lady of Victory Catholic School. Absent: Lorie Regan, Bishop McCort Catholic High School; and Sheila Ulerich, Saint Peter School.

25 YEARS: Bishop Mark; Mary Solnosky, Saint Benedict School; Semko; and Beck.

MASTER CATECHISTS: Bishop Mark; Jill Harris, Saint Peter School; Mary Frances Truscello, All Saints Catholic School; Semko; and Beck.