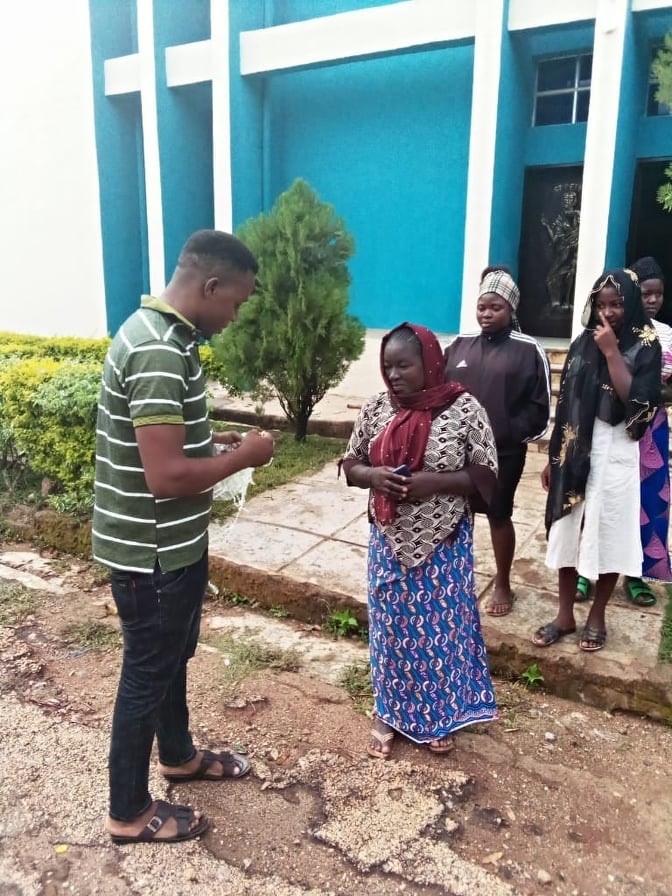 By Tony DeGol
Proclaim!
The power of prayer is uniting the diaconate community of Altoona-Johnstown with a young seminarian halfway around the world.
It is a heartwarming story that has its roots in the early days of the pandemic.
Saint Benedict Parish in Johnstown began recording daily Masses for its faith community when public Masses were halted in mid-March. The parish posted the liturgies on its website via YouTube, which opened them up to a global audience.
Among those watching was a young seminarian in Africa named Linus.
He reached out to Deacon Michael Russo, who is in ministry at Saint Benedict, and explained that he was affiliated with the Missionaries of Jesus the Savior.
After the early exchanges, Deacon Russo verified Linus' identity and affiliation.
"They said he was a seminarian aspiring to the priesthood, and he was finishing up his Philosophy degree and that he also had a humanitarian assignment," Deacon Russo said. "So they gave me a background on him, and I continued the friendship."
As the relationship progressed, Linus requested rosary beads from Deacon Russo.
"He explained that when he goes to villages, he distributes rosaries and teaches children how to pray the Rosary," Deacon Russo added. "When he visits the elderly and the ill, he does the same thing."
Enter Lynn Lubinsky, a Saint Benedict parishioner who leads a rosary making ministry.
"Lynn was right on it," Deacon Russo emphasized. "Almost immediately, I had 300 or 400 rosary beads."
The friendship between Linus and Deacon Russo continued to blossom with daily communication, and Deacon Russo was committed to continuing to provide rosary beads and other spiritual resources for Linus' ministry.
One hurdle was the enormous postage costs.
"I contacted the diaconate community and the vast majority of deacons and their wives contributed to this fund to help support him," said Deacon Russo, who is also the Diocesan Director of the Permanent Diaconate.
As Linus continues his important work, he is facing a horrifying situation.
A series of deadly attacks, linked to an alleged effort to wipe out the Christian community, have occurred in a village where Linus visits — the Kaduna State region of Nigeria.
Linus is safe, and he is asking for prayers and more prayer resources for the people.
"Our deacons, Lynn, and other people working with me are on a campaign to make sure that prayer aids and spiritual aids can get to him," Deacon Russo said. "That's what's keeping the villagers motivated and prayerful. They haven't turned to despair, but they've turned more and more toward prayer."
Deacon Russo has established a GoFundMe page to assist with postage costs. All are invited to support this effort.
Besides that financial support, please keep the prayers for Linus and his ministry coming, begged Deacon Russo.
"That's very encouraging to him to know that he has all these people on this side of the world who know him and are praying for him," he assured.  "His ministry is really very sincere. His heart is there for the people. He is so worried for the people."
[Photo: Seminarian Linus distributing rosary beads to the faithful.]