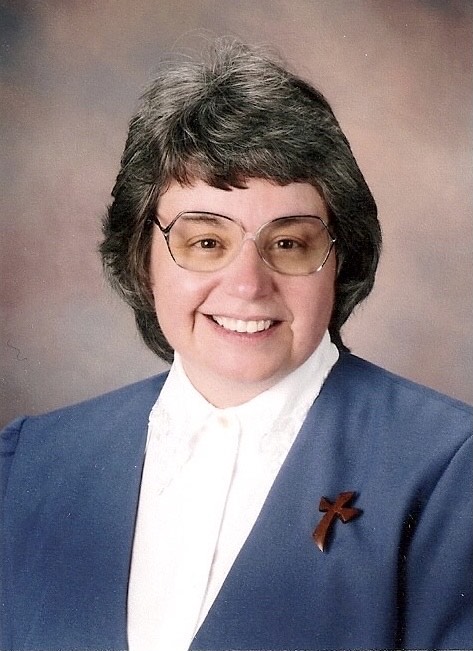 By Tony DeGol 
Proclaim! 
Sometimes those who speak the gentlest can share the strongest message. 
Carmelite Community of the Word Sister Celeste Ciesielka is being remembered as one such individual. 
"She was always a quiet presence, never one to put herself in the forefront, but she was always there for you," noted Sister Marilyn Welch, CCW, Administrator General of the community.  
"For me, personally, Celeste was always a smile and a friendly face," added Sister Cindy Burns, CCW, of her fellow community member. 
Sister Celeste passed on December 15 due to complications from COVID-19. She was 64 years old. 
A native of Portage, Sister Celeste joined the Carmelite Community of the Word in 1981. 
Over the years, she engaged in various ministries throughout the Diocese of Altoona-Johnstown, most recently returning to her hometown roots as a Pastoral Care Assistant at Holy Family Parish in Portage. 
Her ministry there focused primarily on the homebound, which involved home visits and organizing Holy Communion for parishioners unable to attend Mass.  
According to the pastor, the Very Reverend Tom Stabile, TOR, VF, Sister left quite a mark. 
"A parishioner shared with me that her husband never wanted anyone to come for home visits, but said it was okay for Sister Celeste to come," relayed Father Stabile. "He just loved talking with her."
A story like that is hardly surprising to anyone who knew Sister Celeste.  
"She was very quiet," Father Stabile remarked. "Some might even label her as shy. It wasn't that. She was very approachable." 
So approachable, in fact, that Sister's role at Holy Family seemed to always expand. 
She also steered scripture study programs during Advent, Lent, and other times throughout the year. Also, she was the parish point person for the diocesan renewal initiative ARISE Together in Christ and led an ARISE small faith sharing group at Holy Family. 
Additionally, she prepared parents and Godparents for the Sacrament of Baptism and assisted with preparations for funerals. 
"She was a great asset," assured Father Stabile. "She knew everyone and their histories." 
Prior to her ministry at Holy Family, Sister's work included pastoral ministry at the former Saint Rochus Parish in Johnstown, Catholic Charities of the Diocese of Altoona-Johnstown, and hospital ministry at UPMC Altoona. She was also engaged in spiritual direction for Cursillo in the diocese and the Third Order Carmelites. 
"She touched so many people in our diocese and beyond in those ministries and in her life," noted Sister Cindy. "Everybody is heartbroken." 
Due to COVID-19, funeral arrangements for Sister Celeste are private.  
She is survived by the sisters of the Carmelite Community of the Word; her mother, Leona Ciesielka; and her sister, Gerry Ciesielka. Her father, Jerry Ciesielka, preceded her in death.