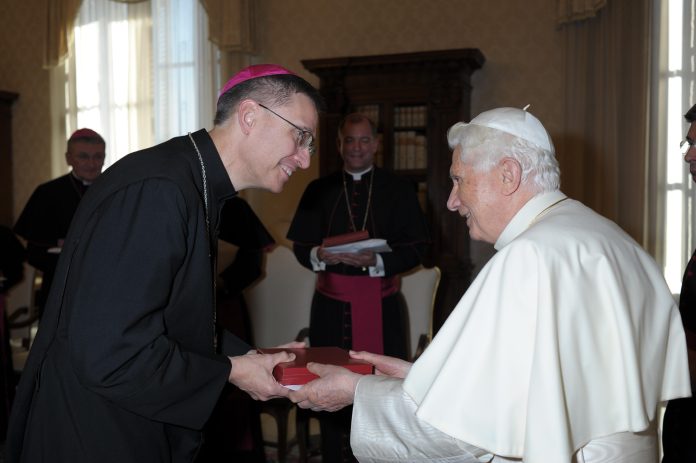 Bishop Mark issued the following statement in response to the passing of Pope Emeritus Benedict XVI —
I am deeply saddened by passing of Pope Emeritus Benedict XVI. Today, I join Catholics around the world in mourning the end of his earthly pilgrimage and celebrating his life of faithful service to the Church.
Over the years, I have been deeply inspired by Pope Benedict as a brilliant theologian. Although quite academic and a steadfast defender of Church teaching, his writings were very spiritual and pastoral.
Upon his election as Pope, I was impressed by his commitment to charting his own course as successor to Pope John Paul II. He led the Church in a manner that was uniquely and genuinely his own.
I was privileged to meet Pope Benedict in Rome on two occasions in 2011, the second of which was especially memorable to me. Upon seeing me in a simple black habit that I had to borrow because the airline lost my luggage, he asked me if I was a Benedictine. It immediately occurred to me that the Pope knew the difference between a Benedictine habit and a cassock, but this was his way of engaging in a lighthearted conversation with me. When I explained my predicament to him, he shared humorous stories of his own travel experiences, including lost luggage. Nearly an hour later, Pope Benedict assured me that he was praying that I received my luggage that day, which I did.
As we mourn the passing of Pope Emeritus Benedict, I encourage local Catholics join me in praying for his eternal rest, and I invite the faithful to local observances that will be held here in the Diocese of Altoona-Johnstown in the coming days, the details of which will be announced soon.
Eternal rest grant unto him, O Lord, and may perpetual light shine upon him. May his soul and the souls of all the faithful departed rest in peace.
[Photos: Bishop Mark and Pope Benedict at the Vatican in 2011.]