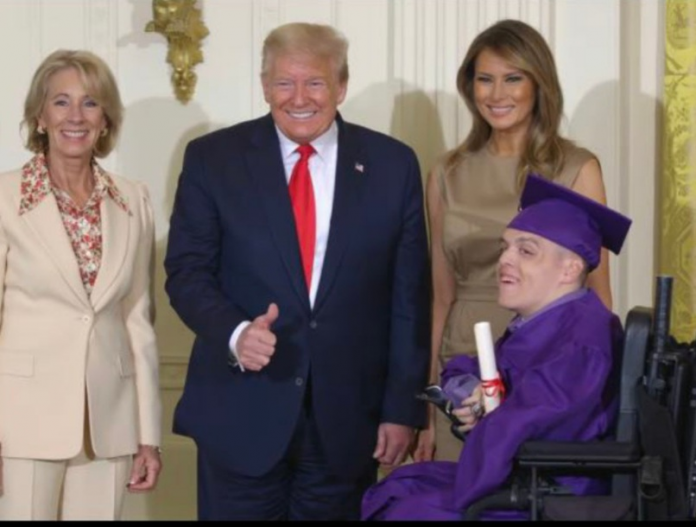 By Tony DeGol
Proclaim!
Jorden McClure wants to be a pilot, but he is already flying high after an experience any graduate would cherish.
On the day he would have attended his commencement ceremony, which did not happen because of coronavirus precautions, the proud Bishop Guilfoyle Catholic High School student instead joined select others from around the country at the White House.
The incredible opportunity came when someone from the White House approached Mary Forr at the Archdiocese of Washington.
"Mary is a BG alumnus and contacted us about President Trump's plans to recognize selected members of the Class of 2020," explained Guilfoyle Principal Joan Donnelly. "We submitted a recommendation for Jorden. He was selected and contacted by White House representatives to attend the event along with his parents."
When Jorden's name was given to the White House, they were impressed by his story, noted his mother, Robin.
Jorden, 19, was born with Larsen syndrome, a disorder of the development of bones. He has a tracheotomy and needed a ventilator for many of his early years.
Through it all, he has defied the odds.
"When he was an infant, doctors said he would never hold his head up," Robin said. "Doctors said he would never breathe without a ventilator. Jorden's faith said otherwise."
The President saluted Jorden as the BG grad looked on from his motorized wheel chair.
"For his entire life, Jorden has endured the trials of a rare disease, but he has never let up, he has never stopped, he is pursuing his dreams, he is doing a phenomenal job, " Mr. Trump announced.
The two went on to chat about BG football.  Jorden served as team captain for many years.
"He asked me if anyone was going to the NFL," Jorden said. "I answered yes, and he asked me who. I answered Kolton McGee (standout kicker). It was like a casual conversation. It was definitely cool to have an exchange with the president about football."
Jorden even gave the President one of his football jerseys sporting his number 45 – appropriate for the 45th President of the United States.
During the banter, Jorden also showed off the "Believe" license plate on his wheel chair. 
Joining President Trump at the ceremony were First Lady Melania Trump and Secretary of Education Betsy DeVos.
As welcoming as the dignitaries were, Jorden also enjoyed meeting the other graduates present – each with their own unique story, but all with the common bond of not having public commencement exercises at their school because of the pandemic.
"It definitely made up somewhat for me missing the graduation for Guilfoyle, but I wasn't with my friends and peers who I spent the last four years with," he commented. "If I was able to take the whole 2020 class from Guilfoyle down, I would have. Of course it would have been a fun time."
Jorden admits the whole experience was surreal.
"I'm still pinching myself," he confessed. "I came away with a warm feeling. I felt they were very genuine, and they really wanted to honor the Class of 2020. President Trump looked at me with a very genuine smile and look."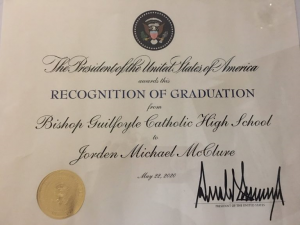 Robin was also impressed by the East Room ceremony.
"It was kept very special for the graduates," she stated. "Everything was so perfectly organized."
The honorees received a certificate.
"It was actually signed by President Trump – not a stamp, which was nice," Robin added.
So as Jorden considers his options for the future, he is not giving up on his dream of being a pilot.
And why should he? After all, so many other blessings in his life have already taken flight.
Editor's Note: For video highlights of Jorden McClure's visit to the White House and exchange with President Trump, watch Proclaim! TV on June 7 at 10:30 a.m. on WATM ABC 23.
[Photos: Jorden McClure with President Trump, First Lady Melania Trump, and Secretary of Education Betsy DeVos (top); President Trump addresses the graduates with Jorden looking on (first inset); Jorden with his parents at the White House (second inset); The "Believe" license plate on Jorden's wheel chair, which he showed the President (third inset); the certificate signed by President Trump given to Jorden (fourth inset).]