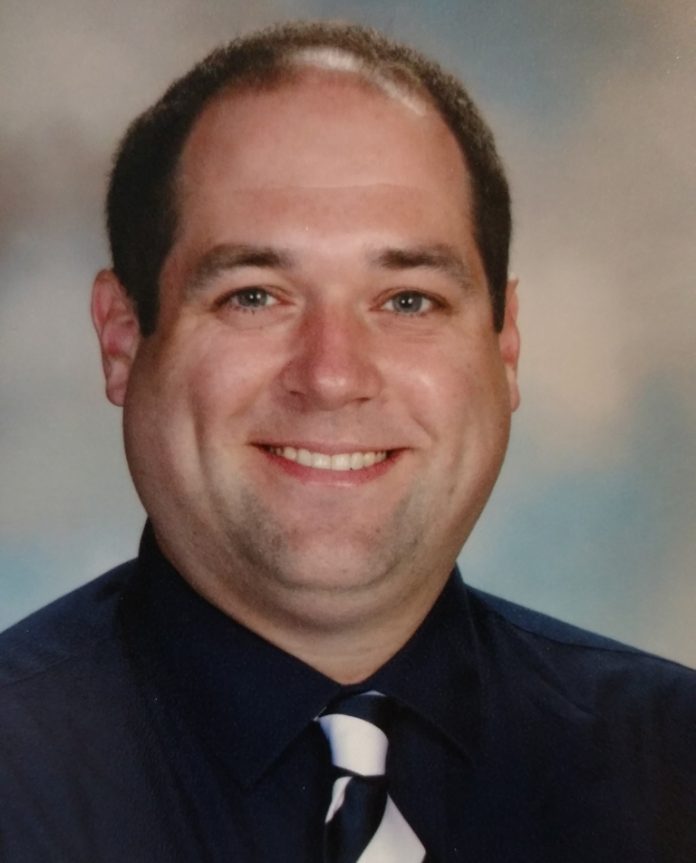 Column by Jonathan Nagy
Every year when the calendar turns to August, many begin to prepare for the start of a new school year. Teachers organize and decorate their classrooms and look forward to implementing new strategies and lessons, ever-growing students go with their parents to buy new school clothes and necessary supplies, and maintenance staffs finish up summer renovation projects. This year, however, feels very different.
People always joke about the weather in Pennsylvania, saying, "If you don't like the weather now, just wait five minutes." The same could be said about living day to day in the modern world. Things seem to change by the day, hour, and minute with recommendations and guidance for everyday living. Everyone has their own opinions about what should be done. Many feel stress in several aspects of their lives, especially with returning to school this year. We pray for our families as they get ready for a different school environment. I speak for all educators when I welcome your prayers as we get back to our classrooms for the first time since March.
Living in a world with seemingly zero consistency is unnerving. There is only one, sure constant in life, and that is the presence of God. Everything happens as He desires, and in His time. We are familiar with the phrase, "Everything happens for a reason." Often, we do not know nor will we ever know the reason for events in our lives, but God does. He loves us and guides us on our journey back to Him.
We are blessed in this diocese to have a wonderful Catholic school system. Of my almost 37 years of life, I have spent the vast majority of it safely inside the walls of a Catholic school. I was educated for 13 years from Kindergarten through 12th grade in Catholic schools, being taught by some of the finest teachers and human beings I have ever known. I am now beginning my 16th year teaching at my alma mater, Bishop Carroll Catholic High School. As I have said often before, I credit so much in my life to my years in Catholic education. The values cannot be overstated, but I am going to try.
As I mentioned earlier, the only constant in life is God. We are privileged in Catholic schools to have the presence of God openly welcomed within our buildings. Prayer is a central focus, both communal and individual. The celebration of the Sacraments and faith-sharing dialogue bring everyone closer to our Savior. Many say "never" to discuss politics and religion. As a social studies teacher, I welcome the former, and as a Catholic educator, I celebrate the latter. It is truly a gift to have Jesus' presence in our schools and classes day in and day out.
Secondly, our schools are environments of safety and security. I have been asked by many people this summer how I feel about returning to the classroom and what that environment will be like. I spent a good bit of time this summer working with our new Head of School, Mr. Steve Cotchen, and our Board of Trustees, to develop a very good plan that not only allows for a return to the classroom but also provides for necessary health precautions. To answer the question about how I feel, I would say I feel strong and confident. Bishop Carroll, like many of our Catholic schools, was built many years ago to house a much larger population. We have the building size and number of teachers to safely space students out in classes and allow for face to face learning to exist. In-person learning is greatly preferable to on-line learning.
Speaking of on-line learning, while not an ideal situation by any stretch of the imagination, I am so proud of how all of our Catholic schools adapted so quickly to continue to deliver instruction over the last quarter of the previous school year. We did not miss a beat. I left my classroom on Friday, March 13 and was teaching remotely to all of my students on Monday, March 16. I never imagined that it would be possible, nor did I ever imagine it would happen, that I would be teaching something like the Civil War from my recliner. I can honestly say that even though no one liked the situation presented to us, we made it work. Flexibility is another great aspect of Catholic schools.
No one can see into the future and know what is coming next. If 2020 has taught us anything, unpredictability should be the lesson. Catholic schools have, and always will, be flexible and adapt to the changing times. Schools in America were started in the churches, both Catholic and Protestant, with the first textbook being the Bible. Throughout the centuries, Catholic schools have continued to survive and thrive. With every difficulty placed before Catholic education, a solution has been found to conquer that challenge. The new situation we find ourselves in is no different. We have adapted to what is before us. Unfortunately, many Catholic schools in other areas of the state and country have been forced to close. We should be proud of the fact that none have closed in our diocese this year. Each school has been unique in their approach to the challenges and are evolving and rising to the occasion, all with Jesus Christ at the center.
Our environment is very welcoming. Over the summer, I have given several school tours to many new families. Each one commented how impressed they were with the facility, the focus on faith, the curriculum, the staff, extracurriculars, and so much more. I consider myself a good secret keeper, but the benefits of attending a Catholic school are not secrets that need to be kept! I invite anyone who is looking for a CONSTANT in life to consider a Catholic education for their children.
Finally, I would be remiss if I didn't mention how a Catholic school becomes an extended family. Everyone knows everyone else and looks out for each other. I often tell my students that I see them more and spend more time with them than I do most of my own family. My students and co-workers are family. There are many times in my life when my Bishop Carroll family has come to my aid, whether they realize it or not. The level of comfort inside those walls is a safety blanket, one that I have missed very much over the last five months and look forward to wrapping myself up in again soon!
I know these articles from me usually include some anecdote or pearls of wisdom. While some may find those in my writing, this article was more about what came straight from my heart. I feel deeply passionate about Catholic education and pray daily that more choose Catholic schools. Each school in our diocese is still accepting students for the upcoming school year. I encourage families to pray about joining a Catholic school family.
In closing, I want to wish everyone a wonderful, blessed, and safe school year. Whatever may come our way, I know our Catholic schools will rise to meet the challenge. All of my current and former students know that I am their biggest and most supportive advocate. I would do anything for any of them, and I know that my colleagues feel the same way. If you don't know of someone to discuss Catholic education with, I welcome the discussion. Please feel free to contact me by email, which can be found at www.bishopcarroll.com. I would be more than happy to direct any family towards any of our outstanding Catholic institutions in the Altoona-Johnstown Diocese. Join me in putting our faith in the future!
Jonathan Nagy, M.Ed., is the Director of Admissions and Social Studies teacher at Bishop Carroll Catholic High School in Ebensburg. He is also the Music Director at the Basilica of Saint Michael the Archangel in Loretto.