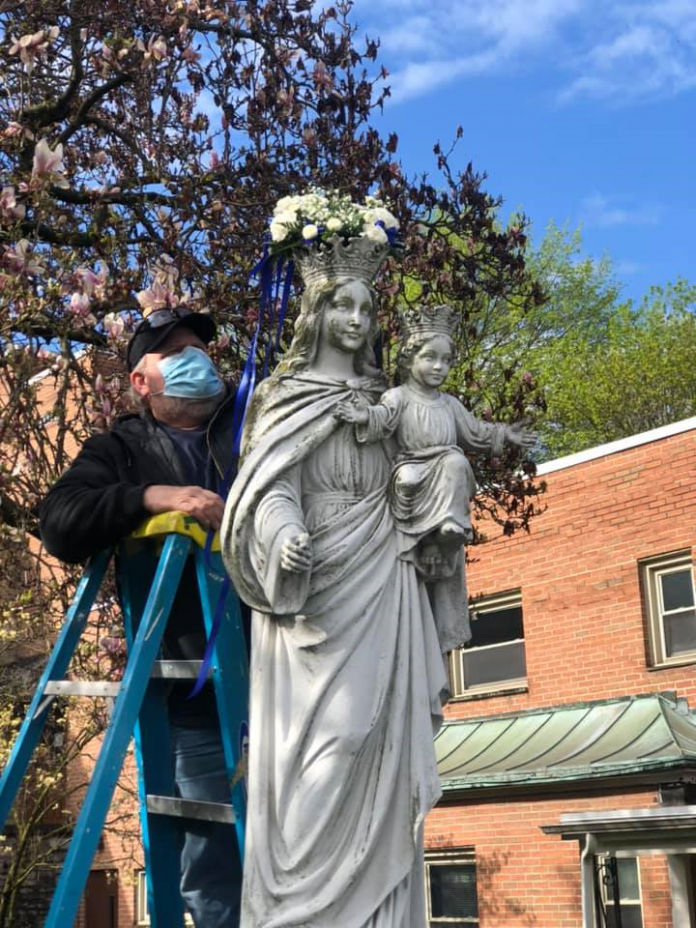 By Tony DeGol
Proclaim!
Third grader Elizabeth Brezler seems to have wisdom beyond her years when it comes to recognizing the beauty of her school's May Crowning tradition.
"I participated because I wanted to show how much I love Mary," insisted the student from Saint John the Evangelist School in Bellefonte. "It was special to me because you get to honor Mary in the month of May, and I wanted to do that."
Special, indeed – even though the ritual, like everything else these days, unfolded differently this year.
According to Principal Kristina Tice, the school family crowned Mary as usual on May 1, but in a much quieter way.
Sporting a mask, Maintenance Director Joe Baummer, placed the crown on the Blessed Mother statue that proudly stands in the school courtyard. Typically, a fifth grade student is randomly selected for the honor.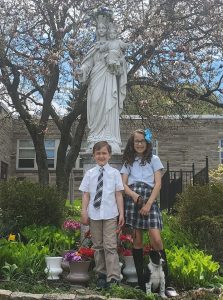 "We invited and encouraged all to bring handpicked, handmade, store bought, or artificial flowers to our statue the first weekend of May," Tice remarked. "We had vases ready for them to fill. It was beautiful weather, and we had many school families and parishioners participate."
The school encouraged the visits to be prayerful moments. In observance of social distancing, they asked families to remain in their cars until it was time to place the flowers.
"Showing Mother Mary our gratitude is very important to our family," said Natalie Smithmyer, who along with her husband, Fred, have three children who attend the school. "It was such an honor to pay tribute to our Holy Mother of God."
Sara Anderson, a Kindergarten teacher at Saint John the Evangelist, loved being able to include her young son.
"It is never too early to plant the seeds of faith in our children," she maintained. "Our Blessed Mother is such an important piece of our Catholic identity. With so much uncertainty in our world and community right now, it is a blessing to have Saint John School to help guide us in continuing to keep the faith and remember all of the beauty within it."
As an extension of the school's May Crowning observance, student videos are being produced with second and fifth graders praying the Hail, Holy Queen and third graders praying a decade of the Rosary.
Also, the school is using social media to send out activities and challenges such as creating home May altars, tutorials on how to draw the Blessed Mother, and tutorials on how to make a Rosary.
"While these are all different from what we have done in the past, I believe they still maintain our traditions and honor the significance we place on our May Crowning," Tice said. "It is important to me that we provide our students with these events that they look forward to each year, whether that be the live Stations during Lent, the May Crowning in May, or the opportunity to meet in their faith communities via Zoom sessions. Distance learning shouldn't stop us from providing a faith-based education."
Editor's Note: Students from Saint John the Evangelist School will virtually and lovingly pray the Hail, Holy Queen as a tribute to Mary on the May 17 edition of Proclaim! at 10:30 a.m. on WATM ABC 23.
[Photos: Maintenance Director Joe Baummer places the crown on the statue of Mary (top); the Dechow siblings pose by the statue (first inset photo); an example of various May Altars created by students and families.]