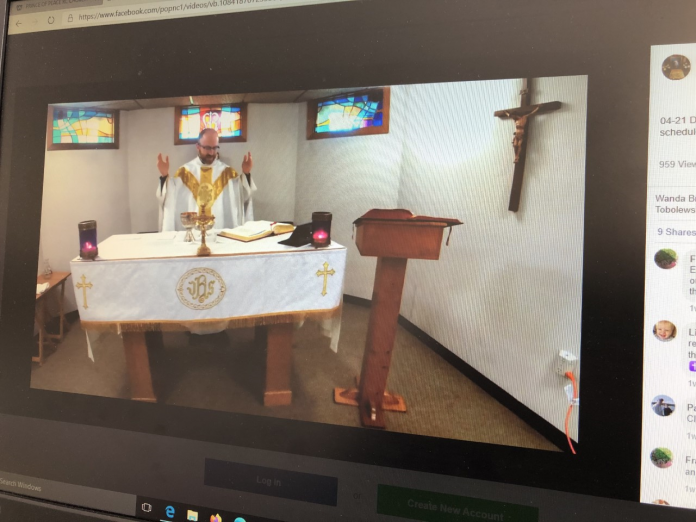 By Tony DeGol
Proclaim!
For Catherine Serafin, it was like riding a bike.
The 87 year old member of Prince of Peace Parish in Northern Cambria has not been physically able to attend Mass for some time. Since the parish started live-streaming liturgies during this coronavirus pandemic, however, she has been able to reconnect with her faith community – even singing along and remembering prayers she had not recited in a while.
It is particularly gratifying for Serafin's daughter, Anne Marie Shaffer, to witness.
"It is nice to see her come alive," Shaffer said. "She remembers that part of her faith. It is beautiful."
The Easter Mass was especially wonderful, Shaffer added.
"I played it on my laptop," she explained. "She was just amazed that she could see her church, and she kept saying how beautiful it was."
Reviews such as that mean a lot to Father Matt Baum, Administrator of Prince of Peace.
Within hours after Bishop Mark announced the suspension of public Masses on March 17, Father Baum was up and running with his first live-streaming Mass – the weekly Tuesday evening liturgy at the parish. 
"I was already familiar with the equipment, so it seemed like a logical extension to provide something for our people who I knew would be disappointed that they were not able to come to Mass," he commented.
Since that first night, Father Baum has continued to live-stream every day on the parish Facebook page. The Diocese of Altoona-Johnstown shares the live-stream on the diocesan Facebook page.
Of course the diocese's Proclaim! Television Ministry is proud to present the live Sunday Mass from Saint John Gualbert Cathedral in Johnstown on WATM ABC 23. Not surprisingly, the broadcast is seeing an even more robust viewership than usual.
More and more parishes, however, have been following Father Baum's lead by either live-streaming or recording Masses for their website and/or social media. Some clergy are also posting regular reflections or devotions.
Whether people realize it or not, these challenging days have yielded some blessings, and the Church's outreach to the faithful through technology is among them.
While watching a Mass on a computer or phone is not the same as physically being in the pews, viewership is healthy, and some pastors are thinking of making technology part of the routine even after public Masses resume.
Currently, Holy Family Parish in Portage is not live-streaming, but the pastor is interested in exploring options for the future.
Father Tom Stabile, TOR, said about 50 parishioners are home-bound or in nursing facilities. Also, it is not unusual for some members of the parish to be recovering from surgery or an injury and unable to attend for a certain period of time.
"I am very happy that the Proclaim! TV Mass or Masses on EWTN are readily available, and I hear people say they love all that, but they miss their own church," he said. "They feel deprived that they can't be here."
Father Baum is open to the possibility of continuing live-streaming.
For both Father Baum and Father Stabile – and likely other priests in the diocese – the key will be working out the financial and logistical hurdles.
"If people are interested in investing money to set-up the church and train people, I would be interested in continuing it in some way," Father Baum noted. "I think people would be interested in continuing it for the sake of our shut-ins."
No matter what happens in the future, it is hard to dispute the impact live-streaming is having right now.
Just ask Catherine Serafin and her daughter.
"It's the best thing that has come out of this," Shaffer offered. "We're all seeing the beauty God has given us to share."
[Photo: Father Matt Baum celebrates Mass, which was live-streamed on the parish's Facebook page.]