By Tony DeGol
Proclaim!
A Ukrainian Catholic priest who has assisted with the safe passage of children from war-ravaged Ukraine to Poland is coming to the Diocese of Altoona-Johnstown to share his personal experience and the significance of his faith.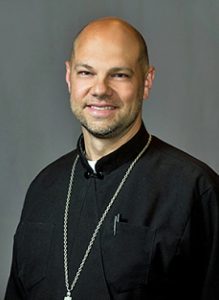 Reverend Jason Charron, Pastor of Holy Trinity Ukrainian Catholic Parish in Carnegie, Pennsylvania, will be the featured speaker at the annual reception and dinner for all councils of the Knights of Columbus within the Diocese of Altoona-Johnstown on October 9 at the Our Lady of Loretto Community Hall in Loretto. Father Charron is a member of the Knights.
Prior to the dinner, Bishop Mark will celebrate his annual Mass for his brother Knights of Columbus at 2:00 p.m. at the Basilica of Saint Michael the Archangel in Loretto. Father Charron will be among the concelebrating priests.
"I am especially grateful to the Knights of Columbus for the many activities that you undertake and initiate in our diocese," the Bishop mentioned to the Knights in his letter inviting them to the Mass and dinner. "It is a pleasure to celebrate this special Mass and share this dinner with you on a day that has become an annual event. I look forward to the opportunity to be with you."
The cost of the dinner is $15 per adult and $7.50 per child (age 12 and younger). Reservations are required by October 1. Please contact William Stasko, 8 Entrance Drive, Johnstown, PA  15905.