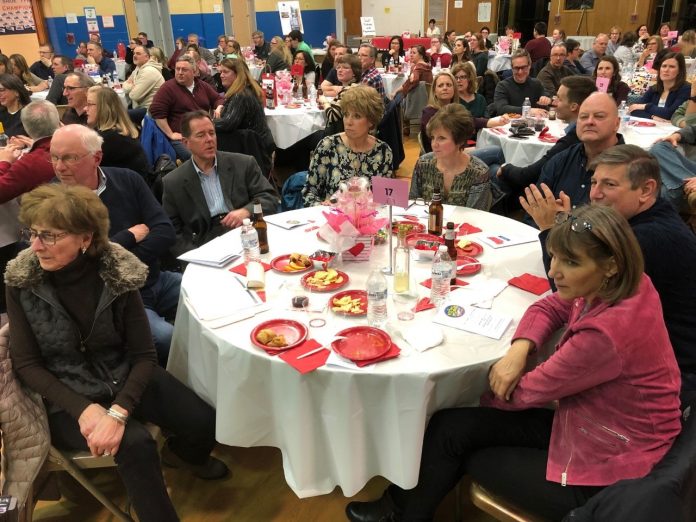 By Tony DeGol
Proclaim!
Master of Ceremonies Mark Griffin felt compelled to get some important business out of the way early at Trivia Night at Our Lady of Victory Catholic School in State College.
"What time are Confessions?," he posed at the start of the festivities. "I'm asking because if any of you cheat tonight, you're going to have to go to Confession tomorrow."
Despite some challenging questions, the approximately 250 adults who attended, of course, did not cheat. Rather, they enjoyed plenty of fun and friendly competition that seemed to mirror the very essence of what they were gathering to support.
The third annual Trivia Night on Friday, February 15 benefited the OLVCS athletic program. It was also a time to celebrate the rich tradition of sportsmanship at the school and the valuable lessons the programs offer student athletes.
"The kids are taught to win with grace and lose with grace," said Jeff Peters, chair of the Athletic Council.  "They learn how to play right, and they learn that if you win, it's great, but if you don't, it's part of life."
Athletic programs, continued Peters, enhance students' spiritual development and competitive nature.
"It's a way to round out their education here at OLV School," he added. "It's special here at OLV, and I really value it, and that's why I've been involved with the Athletic Council for so long."
Peters and his wife, Kathy, who served as co-chair of Trivia Night, are the parents of five children who are current Catholic school students or alums. Their older children thrived in athletics at OLV, and their younger children are already embracing the tradition.
"Athletics promote teamwork and sportsmanship," emphasized Principal Samantha Weakland. "We can think about how we care about others and how we compete with one another."
Added OLV Pastor, Father Neil Dadey: "Here at Our Lady of Victory, we try to supply the spiritual, the educational, and also the athletic concept as well – a well-rounded education in all areas."
According to Athletic Director Ruthie Straub, the school offers sports including boys and girls basketball, co-ed soccer, and track and field. More than half of the middle school students participate in athletics.
"It brings school spirit and camaraderie," she noted. "Our teachers have coached, our parents have coached, our alumni are coming back to coach. Everyone can come together for the same passion and love of our sports."
The programs, of course, come with a price tag for uniforms, transportation, coaching stipends, and other expenses.
That is why the Trivia Night fundraiser, which included raffles and live auctions, is critical.
"We raise about $20,000 with this one event, which is a good portion of the athletic budget." mentioned Weakland.
After a night of vigorous trivia competition, a group representing Saint Joseph's Catholic Academy in Boalsburg walked away as champions.
The real winners, of course, are the student athletes who, as the school insists, can always claim victory by winning and losing with grace.