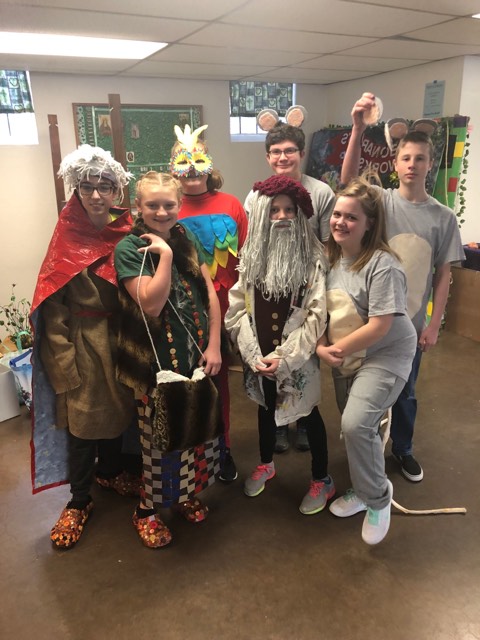 Submitted by Doctor Donna Messner
Principal, Saint Patrick School
Saint Patrick School, in Newry, has been providing a strong, Catholic education to families in Southern Blair County and Northern Bedford County for almost a century.  Located in the small borough of Newry, the school has played an integral part in the community for 98 years.  Since 1920, when the school opened, the Sisters of Mercy have provided teaching as well as leadership services to the school.  Currently, two religious Sisters provide support and encouragement to our students.
Led by the School Administrator, Father Allen Zeth, and the Principal, Dr. Donna Messner, seven full-time teachers, three part-time teachers, 2 teacher assistants, and five instructors from IU 08 and Catapult provide whole group, small group, and individualized instruction to meet the needs of all students.  Instruction is provided in Language Arts (Reading, English, Spelling, Writing), Mathematics, Science, Social Studies, Religion, Health and Physical Education, Art, Music, and Computer/Technology.  Throughout all subjects, STREAM is incorporated to prepare students for the 21st century.  This integration of curriculum is emphasized by parent, Cristy Corle.  She indicates that "One of the core strengths of Saint Patrick School is their ability to seamlessly integrate Catholic principles into a challenging educational curriculum.  This creates a well-balanced atmosphere of learning and faith that is critical in today's society".
To foster a sense of family and community, each week begins with a group meeting that starts with prayers, the Pledge of Allegiance, and the Saint Patrick Daily Pledge.  Birthdays and special events for the week are discussed.  All students are given a chance to share important life happenings with the entire school.  On all days of school, students lead prayers in the morning and at the end of school, rotating from first grade to eighth grade.
Meeting individual student needs is an integral part of the culture of Saint Patrick School.  Malia Smith stated, "I chose Saint Patrick's for my daughter because the staff recognizes each child as a unique gift from God.  They identify each child's strengths and implement various strategies for students to achieve their goals."
During the 2018-19 school year, there has been an emphasis on training teachers in Math and Technology.  In the Fall, R.O.C.K. (Rural Outreach Chemistry for Kids) professors, from Saint Francis University, made a presentation to all students at Saint Patrick School on Environmental Science and Chemistry.   Students, PreK through 8, have been working on developing Coding skills and are utilizing the Dash-n-Dot Robots to reinforce skills.
Another significant implementation during the 2018-19 school year has been "Faith Families", which coincides with the Christ is R.I.C.H. in Me program.  Students discussed Respect, Integrity and Courage through the study of Saints and their influence on others throughout history.  Humility will be covered in the Spring.
When attending Saint Patrick, students have the opportunity to participate in many extracurricular activities.  These include: Odyssey of the Mind, Forensics, Basketball, Spelling Bees, and Instrumental Lessons.  During the year, they participate in the Christmas Program and the Variety Show.  They also take an active role in weekly Mass as lectors, cantors, gift bearers, altar servers, and ushers. Many
students give back to the Saint Patrick Community by assisting at the annual Festival in the Shade and the Lenten Seafood Buffets.
Parent Advisory Board member, Dr. Patrick McLucas, indicated that "Saint Patrick's strength is the education it offers our PreK-8th graders and the stewardship instilled in our students."  Additionally, Dr. McLucas stressed that "we maintain the only PreK-8th grade Catholic Campus in Blair County.  Our parish will continue to foster the ideals that make for responsible students, and eventual leaders."
Saint Patrick School and Parish play an integral part in the communities located in Southern Blair and Northern Bedford Counties.  The annual Festival in the Shade, Monday and Saturday night Bingo, and the Friday night Lenten Seafood Buffets are enjoyed by residents of Bedford, Blair, Cambria, and Huntingdon Counties.  Often, alumni of the school return to the area to attend these events.
The school is actively involved in community outreach.  Students and Staff have raised money for the Saint Vincent DePaul Food Pantry and donated Cereal as well as gloves, mittens, hats, and scarves to those in need.  During the Altoona Advent of Christmas Parade, the school entered a float that included parents as well as staff and students.
Saint Patrick School invites everyone to come and tour our campus.  Great things are happening in Newry!
[Photo: Odyssey of the Mind Team: Dylan Miller, Madison Bunk, Lauren Bunk, Lauren Garner, Nick Reed, Brooklyn Becker, Thad Garner]