From Saint Matthew School
Culminating a two-week theater workshop by the Tyrone Community Players with the students at Tyrone's Saint Matthew School, "The Greatest Gift" was shared with a capacity crowd on December 14. 
"The Greatest Gift" featured woodland animals who share with Santa their concern that there won't be presents for Christmas. Santa explains, by retelling the story of the nativity, that God had already given the world its greatest gift in the birth of His son, Jesus.
"Playing Santa was very interesting," said fourth grader Grayson Vaughn. "Usually you don't think of Santa talking about the real meaning of Christmas so it was really different to share the story of Jesus dressed like him. I think the audience really liked our play and I had a great time."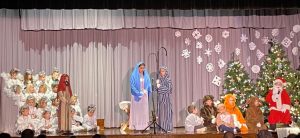 "Our goal was to expose these young students to all aspects of theater from acting to set and costume construction to lighting and sound," explained TCP member Nancy Sloss. "The amazing job these young actors did this evening is proof that the workshops were a success."
"I really wasn't sure if I could go on stage and talk, but I did and it was really fun," said Herald Angel Reagan Mussleman. "I feel so much better about talking in front of people and want to do it again."
The Saint Matthew Christmas Program consisted of vocal and instrumental selections by the students in preschool through grade six followed by the musical performance.
The entire program is posted on the Saint Matthew School Tyrone Facebook page.
Lead Teacher Jennifer Casanave shared with the standing-room only audience, "Our students have been so fortunate to have this opportunity to develop new skills in music and performance and to share their God-given talents with us all this evening. There is no better way to celebrate Christmas than enjoying the joy shared by these young children. Thank you to our parents and families for supporting our school and may you have a very merry Christmas."