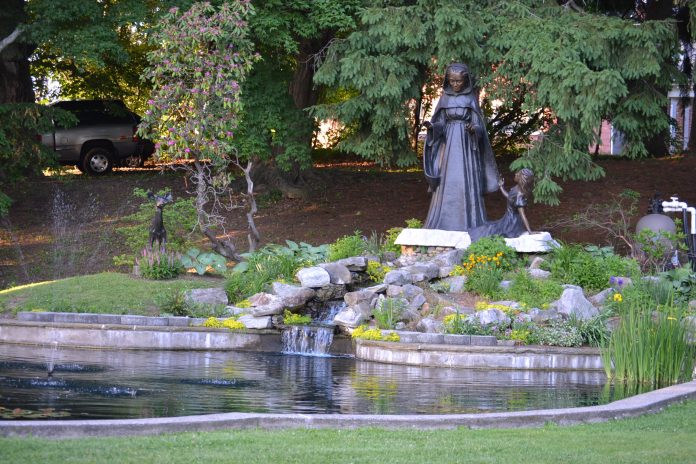 By Tony DeGol
Proclaim!
Better late than never.
A summer tradition in the Diocese of Altoona-Johnstown is returning – albeit a few weeks past its normal start date thanks to the coronavirus pandemic.
The Basilica of Saint Michael the Archangel in Loretto will begin outdoor Masses at the Our Lady of the Alleghenies Shrine, next to the Basilica, on June 14, announced the Rector, the Very Reverend John Byrnes, JCL, JV.
Weather permitting, the outdoor Masses will be celebrated every Sunday night at 7:00 p.m. through Labor Day weekend.
"We will be practicing social distancing," stressed Father Byrnes. "Please bring your mask."
In case of inclement weather, Father Byrnes will offer Holy Communion at 7:00 p.m. inside the Basilica. He will determine, based on the number of people, if Mass can be celebrated in the church. If there are too many people, he will distribute Communion and then celebrate Mass with a smaller group.
The beautiful and spacious grounds of the Shrine allow the faithful to spread out their lawn chairs, which accommodates the need for social distancing during this time.
The outdoor Masses typically begin on the Sunday of Memorial Day weekend, but are obviously delayed this year due to the suspension of public Masses in Altoona-Johnstown until the weekend of June 13-14.  
"Let's pray for some sunshine and some beautiful Sunday nights back in Loretto," Father Brynes said. "We welcome you!"