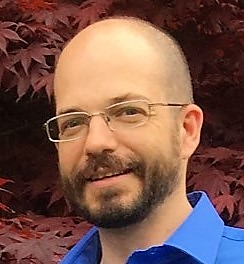 By Tony DeGol
Proclaim!
A team is in place to maintain the excellent tradition of two valued diocesan ministries and take the outreach to new levels.
The diocese has appointed Andre McCarville as the director of the Office of Missions and Family Life.
McCarville will continue in his diocesan role as campus minister at Penn State Altoona – a position he has held for nine years.
Born in Wisconsin and raised in Virginia, McCarville worked in youth ministry at a parish in Monroeville for eight years before moving to Altoona.
He is excited for the additional responsibilities of leading the Missions and Family Life ministries.
"The family is at the heart of both the Church and our society, and we need to recognize that the challenges facing families today are real and serious," stated McCarville, a husband and father of four. "I really appreciate the opportunity to continue the good work that has already been done to strengthen families, and I look forward to helping them continue to grow and thrive through Christ centered relationships." 
Donna Cook, who will celebrate her 43rd anniversary with the Family Life Office later this year, is continuing in her role as Office Manager.
"All of the Family Life programs in place will remain, and I look forward to working with Andre in adding more program opportunities to enrich families in the diocese," Cook said.
The marriage preparation program is among the most recognized programs offered through Family Life, she noted.
All engaged couples who seek to be married in the Catholic Church are required to go through the process through two Saturday sessions or three evening sessions – both amounting to the same overall time commitment.
Through marriage prep, husbands and wives give engaged couples real-life examples of how Christ can be at the center of their marriage through topics such as communication, decision-making, and finances.
Also required is an on-line inventory that helps identify the strengths and weaknesses of engaged couples and tools for improvement.
Popular events offered through the Family Life ministry include the annual Wedding Anniversary Liturgies every September at the Cathedral of the Blessed Sacrament in Altoona and Saint John Gualbert Cathedral in Johnstown, the annual outdoor Mass for married couples every July at the Our Lady of the Alleghenies Shrine in Loretto, and an annual Liturgy and luncheon for widows and widowers.
Family Life will continue its sponsorship of Faith and Light – a ministry for families with an individual with intellectual disabilities.
Dotty Caminiti, a 13 year veteran of the diocesan team, rounds out the Missions and Family Life Office.
Caminiti has worked in the Education and Parish Life Offices, as well as the Missions Office. As part of her new responsibilities, she will continue her focus on the diocese's missionary outreach, which includes the Pontifical Faith Society (caring for the poor around the world), Catholic Relief Services, and Altoona-Johnstown's partnership with the Diocese of Mandeville, Jamaica.
"I am excited about working with Andre," Caminiti mentioned. "I've known him for many years, and I look forward to working with him to strengthen the diocese's rich history with the missions."
Added McCarville: "The heart of the Church is missionary, and so I'm looking forward to a chance to open more opportunities for Christians to delve into the mission fields themselves, both in giving and in serving."