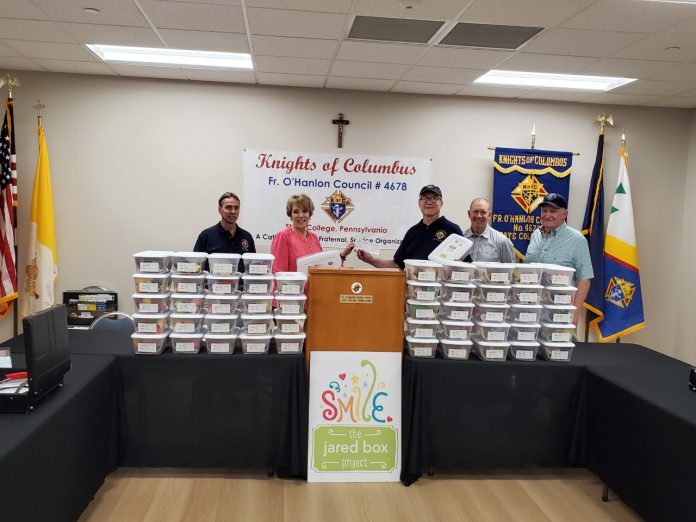 From the Knights of Columbus Father O'Hanlon Council #4678
Knights of Columbus from the Father O'Hanlon Council #4678 in State College are supporting the Jared Box Project by collecting items and assembling 50 Jared Boxes for Mount Nittany Medical Center in State College. The Council also presented a check for $500 to the Project. The mission of the Jared Box Project is to entertain and put a smile on the faces of children in the hospital. The Father O'Hanlon Council wants to spread the word about how easy it is for your council to bring joy to sick children in your own community through the Jared Box Project.
The Jared Box Project was started in 2001 by the children of Our Lady of Victory Catholic School in State College to honor their classmate and friend, Jared. He was a brave little boy who battled cancer with a courage and faith that continues to inspire us all. Jared was diagnosed with an incurable brainstem tumor in 1999. He carried a backpack full of toys and games to all appointments and questioned why the other children didn't bring toys to their exam rooms. Jared shared his toys and invited the other children to join him in a game of UNO. At just five years old, he demonstrated faith, wisdom and compassion for others.
Since then, more than 986,000 Jared Boxes have been delivered to over 400 hospitals across the United States. Boxes filled with the "gift of play" are given to young patients in emergency rooms, hospital rooms, surgical centers and clinics. Each box contains small gifts, toys, games, crayons, coloring books and fun activities selected for a specific age and gender.
The Jared Box Project is a 'Give Local' project. Thousands of groups, families, and individuals have made and delivered Jared boxes to hospitals in their own communities. Children and their parents are so thankful for these boxes that showcase the importance of play and are filled with well wishes, hope and love.
The project is easy to organize, inexpensive and can benefit children in the hospital in your own community. Groups such as schools, churches, scout troops, service organizations, businesses, civic groups, and Knights of Columbus Councils have come together to make Jared Boxes. It is easy for your council to support the very deserving children in your local hospital through the Jared Box Program.
For information on putting together Jared Boxes in your own council for your community please visit: https://thejaredbox.org/make-a-jared-box/. There are many downloadable resources on the Jared Box website (https://thejaredbox.org) including activity pages and note card suggestions. Help make a difference in a child's life today.
[Photos: (Top) Grand Knight Marty Mazur presents a check to Jared Box Project Executive Director Cindy Kolarik. (Inset) Knights load up cars with Jared Boxes.]